The Patient Success Platform
Connect the access, operational, clinical, and financial journeys to attract, guide, and keep patients.
Attract patients and keep schedules full
Patient Scheduling
Text and web scheduling
Rules-based, EHR-integrated scheduling guides patients to the right time for them, with the right provider.
Referrals
Interactive notifications let patients know when they've been referred, book, and get real-time confirmation. Providers are in the loop at every step.
Smart waitlist
Patients on the waitlist automatically get offers that match the appointment type they're looking for.
Actionable reminders
Automatic, customized reminders integrated with your EHR schedule get more patients in the door and reduce no-shows.
Cancellation management
Luma responds to cancellations with upcoming slots that match the original — all the patient has to do is choose one.
Simplify the financial experience, for everyone
Financial Journey
Payment (+ support for more EHRs coming soon)
Remind patients to pay, then collect payments via forms, 1:1 chat or the EHR.
Verification (Coming soon)
Reduce financial risk, increase revenue and streamline staff workflow with real-time insurance eligibility verification.
Eligibility (Coming soon)
Electronic prior auth and a guided workflow that auto-fills payer data makes sure patients are ready for care when they arrive.
Estimates (Coming soon)
Offer patients billing transparency with estimates at scheduling.
Have text-first conversations anywhere, anytime
Conversational Messaging
Patient-initiated texting
New and existing patients can start the conversation with your organization.
Broadcast
One-to-many outreach lets you update patients about closures, tell them about new service lines, or remind them about due care.
Feedback and reputation management
Patients are automatically encouraged to share feedback, helping you improve and boosting positive online reviews.
Secure patient-provider chat
Providers securely two-way chat with patients, web-to-text.
Multilingual messaging
Let patients engage with their care in 20+ languages, including Spanish, Mandarin, Bengali, and Khmer.
Guide patients and prepare them for care
Operational and Clinical Forms
EHR Forms™
Intake data – new patient packets, prior auths, consents, and more – flows directly to your EHR via open standards and CCDA exchange.
Mobile check-in
Mobile check-in simplifies appointment day: patients text when they arrive, get updates from staff members, complete forms, and even video chat with staff or providers.
Patient intake
Online, mobile-first patient intake makes appointment day simpler for patients and gives providers information ahead of time.
Health risk assessments
Patients can automatically get the right health screenings and assessments – for example, for cancer or diabetes risk – via HIPAA-compliant text or email. Responses are stored in your EHR.
THE PATIENT JOURNEY TOOLKIT
Understand and analyze the patient journey
Overview and detail reports
Patient Success Dashboard
Luma in Your EHR
Patient Journey View
Data warehouse and business intelligence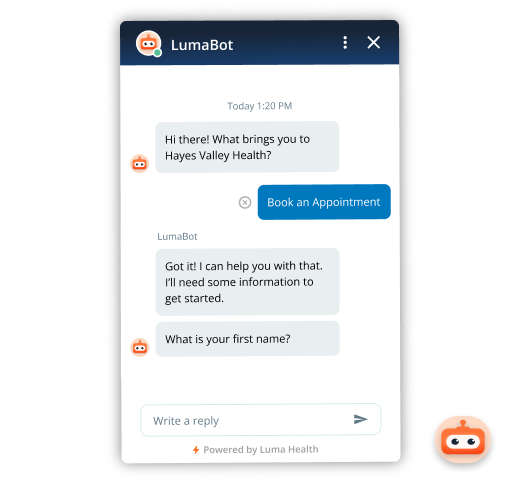 LumaBot™
24/7 web concierge
The entire Patient Success Platform, bot-sized
Customizable chat flows in English, Spanish, and Portuguese
EHR integration means more informed conversations and no double-documentation
The building blocks for every patient's journey
Find a fit for every one of your unique patients.

Josiah, 22
College athlete
Baltimore, MD

Evelyn, 63
Retired
Stillwater, OK

Nia, 42
Mom of 2
Los Angeles, CA
Use Cases
The building blocks add up to something greater
Whatever use case or workflow you're looking to solve for, you can do it with Luma.
Digital Front Door
Patient Engagement
Recall and Attribution
Vaccine Operations
Population Health
Campaigns
Pre- and Post-Care Messaging
Patient Education
Patient-Reported Outcomes
…and more
Introducing LumaKits™
Community-designed use cases, ready to go
Text the CEO
| Banner Health
Salesforce Connect
| Optima Dermatology
Wait Time Estimator
| Northfield Hospitals & Clinics
Meet Your Doctor
| Kelsey-Seybold Clinic
Learn more about LumaKits™