3 ways Luma integrated with Epic can superpower your patient outreach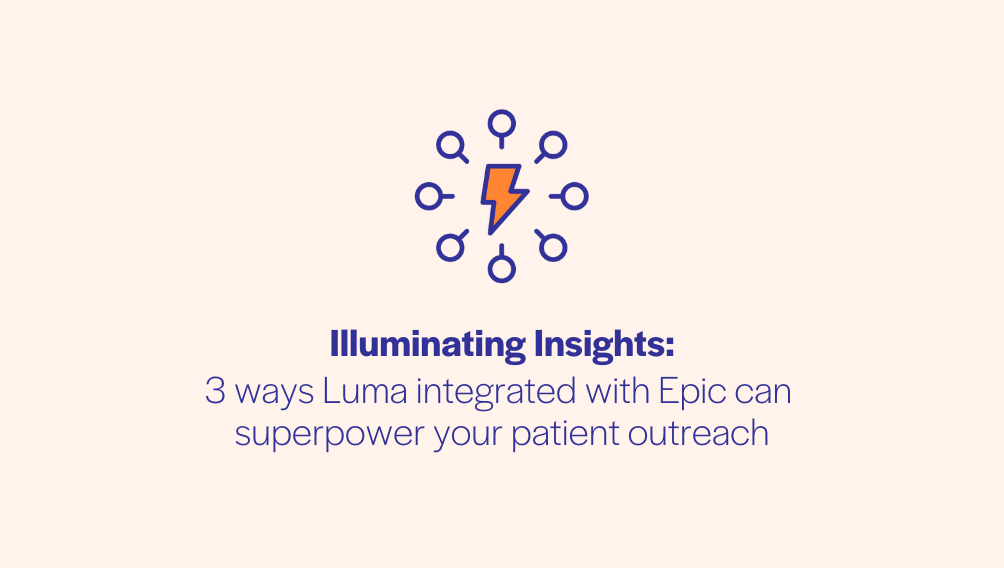 With fewer staff and more revenue challenges, healthcare organizations need to quickly reach their patients and keep schedules full.
Integrating Luma with their Epic EHRs helps Luma community members superpower their patient outreach. Using patients' preferred messaging channels makes outreach more effective, while API-based EHR integration means no double-documentation or manual work.
Here are some ways the Luma community gets more out of their workflows.
With Luma integrated with Epic, Luma community members' outreach is:
Customized 
At Franciscan Health, reminders are customized to each patient and appointment type, making them more relevant and actionable.
Details already documented about the patient in Franciscan's Epic system – from appointment details to preferred contact method – drive the outreach.
For example, patients who have a follow-up appointment the same day or who have previously been seen at Franciscan see different reminders than someone being seen for a new patient appointment.
With these text reminders, Franciscan Health sees a 70% click-through rate – about 50% more than with their previous email reminders.  
Text-First
By switching to text-first outreach, Columbus Regional Health immediately saw results. Before implementing Luma, Columbus Regional Health reminded patients about their appointments by automated call, which patients were less likely to pick up or respond to.
"We often have patients make appointments six months out, so it's important that we provide them with reminders," said Gayle Wilson, Senior Systems Analyst at CRH.
Luma reminders are automatically sent to patients on CRH's schedule in Epic. To get even more out of the switch, they made the decision to move from text opt-in to text opt-out, where communication preferences in the EHR use text by default. Now, CRH is sending SMS reminders to more than 80% of their patient population.
Since delivering most reminders via text, CRH has seen no-shows drop by more than 40%.
Actionable
Montefiore Health System in New York sees many of its patients via referral. To ensure as many referred patients get through their doors as possible, Montefiore sends Epic-integrated Luma messages reminding those patients to schedule.
From the message, patients can schedule with just a few taps.
The referral in the EHR is linked to the reminders to keep them up-to-date and actionable. so if a patient hasn't scheduled, they'll receive another nudge to schedule. When the patient schedules, the referral is closed automatically and the patient no longer receives reminders.
Want to learn more about how Luma can superpower your Epic-first workflows? Schedule a Luma 1:1 today.