How MEDITECH Organizations Create a Better Patient Experience and Save Staff Time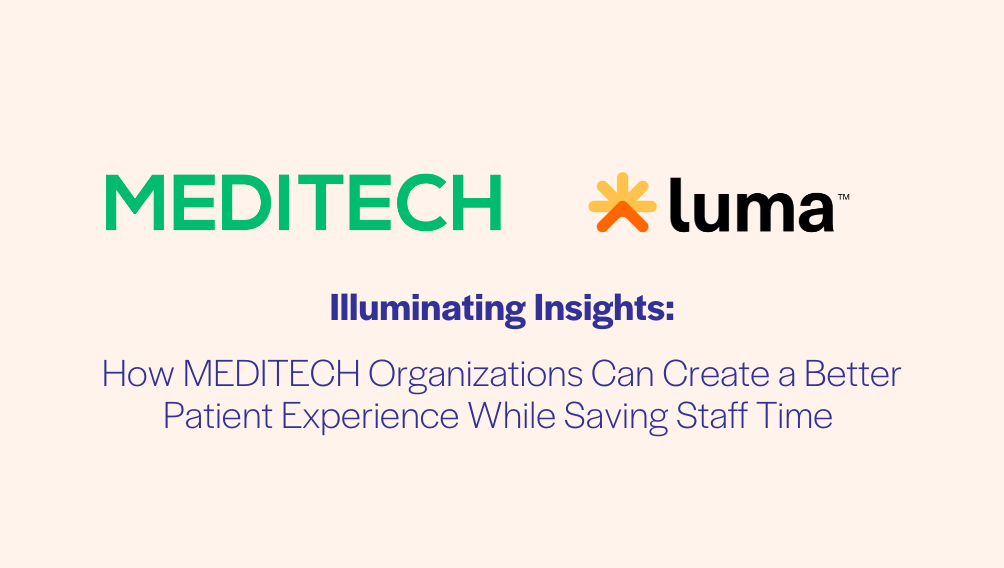 With hours of manual outbound calls on their plates and phones ringing off the hook, many organizations using MEDITECH are looking for ways to stretch their limited staff farther to create the best-in-region experience that will continue to differentiate their brand.
Imagine if your own organization had hours more time for each staff member to provide a truly concierge-level experience to your patients – ensuring they were up to date on preventive care appointments, checking in after procedures, providing resources to patients who needed financial, language, or other support, and much more.
These Luma customers have integrated automated and self-service actions using Luma directly into their MEDITECH systems to take manual work off of their staff's plates and enable a better experience for both patients and staff.
Northfield Hospital + Clinics
At Northfield Hospital + Clinics, "we're like David between two Goliaths," said Vern Lougheed, Director of IT. Northfield is located in rural Minnesota, and competes for patients who also have the option to visit large health systems in the Twin Cities like Mayo Clinic.
Northfield chose Luma to power its patient experience initiatives by integrating directly with MEDITECH via APIs. The resulting efficiency helps Northfield stand out: "Our goal is to provide easy access to our organization anywhere a patient wants it," said Debbie Oathoudt, IT Program Manager.
Before Luma, Northfield staff manually called each patient for appointment reminders, totaling 150-200 daily calls per FTE. Now, with reminders that are automatically sent to patients with appointments scheduled in MEDITECH, Northfield saves 80 hours in reminder calls every month. The reminders have also helped decrease no-shows by 15%.
Phelps Memorial Health Center
For Phelps Memorial Health Center, where many patients travel long distances to get to care, better staff efficiency and more patient convenience have a direct impact on patient outcomes.
API integration with MEDITECH helps Phelps Memorial patients prepare for visits ahead of time by:
Self-scheduling their own visits directly into MEDITECH Expanse.
Responding to reminders that are automatically sent based on their upcoming appointments in the MEDITECH schedule.
Completing intake forms online that are sent back to MEDITECH Expanse before the visit.
Self-service and digital options have been "so well received at Phelps Memorial" by both patients and staff, says Director of EHR Kurt Schmidt. 84% of patients who receive intake forms from Luma complete them ahead of their appointment, and "different departments come to me and ask how they can implement Luma into their workflows," Kurt said. Phelps Memorial reaches more than 98% of their patient population using Luma.
Get Outcomes Like These
Northfield Hospital + Clinics and Phelps Memorial Health Center show the power of giving scheduled patients actionable next steps. Not only does this help patients remember and prepare for their appointments, but allowing patients to self-service takes hours of work off of your staff. What's more, data from KLAS Research shows that patients want self-service options and will even select a provider based on available digital offerings.
If you're interested in the possibilities of integrating options like these with MEDITECH, reach out today:
Patient self-scheduling
Actionable reminders that allow patients to cancel and reschedule their appointments and join an automated waitlist
Automatic offers to switch to text message for patients waiting on hold
Automated requests for patients to confirm appointments, complete forms, and more