4 Ways FQHCs Use Luma to Reach More Patients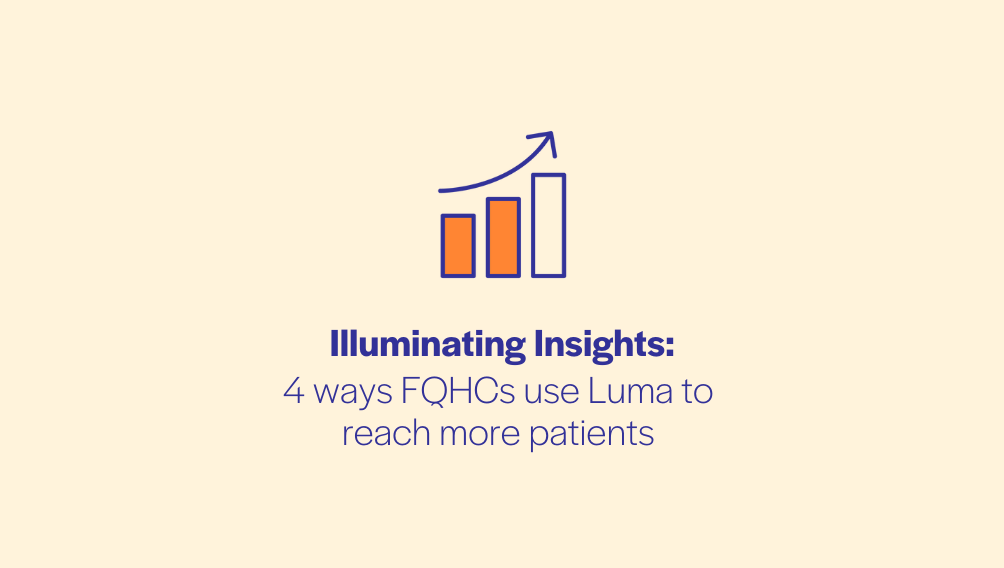 Federally qualified health centers, or FQHCs, make up a core part of the United States' healthcare landscape, as more than 1,400 currently provide care.
While these organizations serve different regions and patient populations, they all have one thing in common – the need to reach patients quickly and efficiently, no matter where they are in their journey, what language they speak, or what communication channel they prefer.
To consistently reach more patients and keep those patients healthier, FQHCs are automating their outreach and removing the burden of manual calls from their staff.
Here's how FQHCs use Luma to amplify their reach:
At Cook County Health, a Chicago-based FQHC serving the second-largest county in the United States, the team needed a consistent method to reach their vast patient population. Since partnering with Luma, CCH has sent over 4.9 million appointment reminders to bring patients in for important vaccinations. "We need a partner that can handle whatever we throw their way. Luma always delivers – whether that's deep scheduling integrating into Cerner, scalable vaccine operations, patient outreach, or flexible messaging capabilities," Adam Weber, Executive Director of Operations and Support Services
As the only health center in a 20-mile radius, Alexander Valley Healthcare in Cloverdale, California often has a lengthy attribution list to nurture. Before, referred patients could miss out on preventive screenings or other needed care. With Luma, AVH automated their attribution list outreach, reminding new patients of due care and helping them schedule. Alexander Valley Health scheduled 30% more preventive screenings, with 38% more attributed patients receiving care.
For Ryan Health, which serves patients throughout Manhattan, multilingual messaging has helped amplify communication across their diverse patient population. Using Luma, Ryan Health reaches patients in over 35 different languages."Luma helps us extend our reach to our neighbors and serve even more people," said Sam Bartels, executive director of Ryan Health's mobile, West 97th Street, and Wadsworth locations.
Virginia's GPW Health Center needed a more efficient way of managing patient communication. Their team was overwhelmed with manual processes, such as calling patients back to reschedule appointments and sending paper mailers to reach patients with details like referrals or test results. Switching to patient self-scheduling and automated reminders significantly reduced the volume of inbound calls and the need for a dedicated team to confirm appointments. Patient engagement has increased by 70%, while no-show appointments decreased by 11%.
Want to learn more? Schedule a demo today!