How Luma and MEDITECH collaborated to expand patient success capabilities for healthcare systems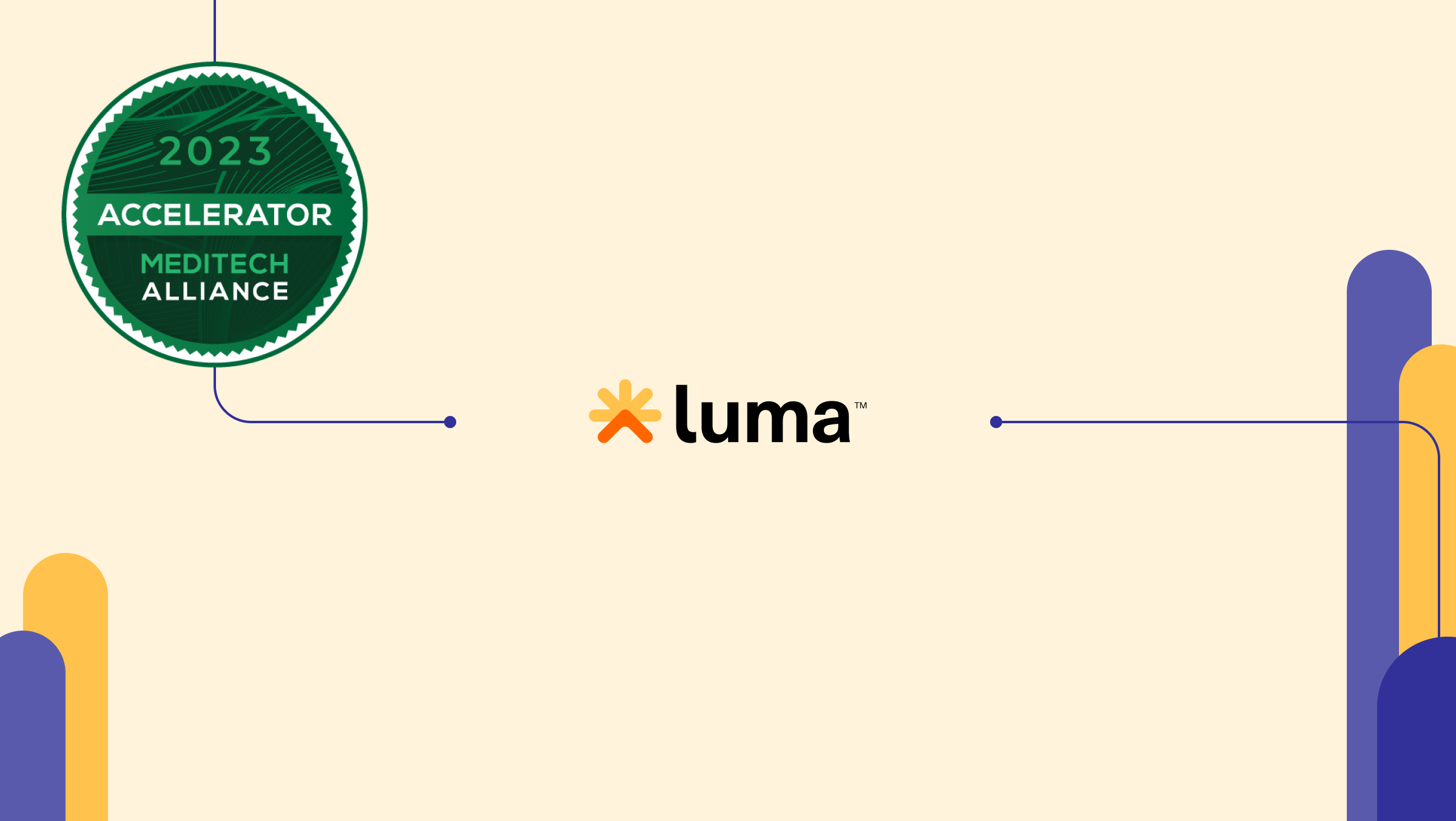 We're thrilled to announce that Luma is now fully integrated into one of the healthcare industry's top electronic health record providers to deliver powerful new capabilities to the thousands of healthcare providers that use the MEDITECH Expanse EHR. This integration will provide new and powerful features for the thousands of healthcare providers that use the Expanse platform.
As an initial member of the MEDITECH Alliance program, and currently the only patient-facing solution included in the program, Luma collaborated with MEDITECH to validate integration of its Patient Success Platform™ and MEDITECH-enabled workflows for integration with MEDITECH Expanse, including patient scheduling, conversational messages, operational and clinical forms, staff scheduling, and more.
Today's announcement exemplifies how both healthcare providers and patients benefit when a major health system's EHR provider opens API technologies. This is especially true when the health system goes the extra mile by providing a mechanism for third-party developers, such as Luma, to validate and perfect their own innovative solutions within a real MEDITECH EHR installation.
Five years in the making
Back in 2018, MEDITECH launched MEDITECH Greenfield, an application development environment to fuel the building and adoption of third-party applications. We paid particular attention to this announcement because it emphasized interoperability and offered support for useful technical connections like RESTful APIs, including FHIR. Better still, the program is backed by the MEDITECH technical teams to help developers (and, by extension, MEDITECH customers) maximize the value of the Expanse EHR.
When MEDITECH invited Luma to join the initial roster of third-party developers for the MEDITECH Alliance program, we jumped at the opportunity. MEDITECH Alliance provides greater transparency for organizations interacting with MEDITECH, and simplifies the discovery and purchasing process for customers who want to broaden the capabilities of their current systems. Over several months, we collaborated closely with MEDITECH's technical and commercial teams to tightly integrate Luma with Expanse, ensuring a friction-free experience for our mutual customers.
Beta testing in a live customer environment
After thoroughly validating Luma's functionality within Expanse, MEDITECH invited a healthcare provider, Phelps Memorial Health Center of Holdrege, Nebraska, to pilot Luma within the MEDITECH Greenfield Workspace program. Phelps Memorial Health Center partnered with MEDITECH and Luma Health to leverage MEDITECH's implementation of the Argonaut FHIR scheduling APIs, creating powerful workflows for staff to more successfully connect with patients.
This FHIR API-based approach to integration is benefitting patients by allowing them to intuitively schedule and manage their own appointments using apps developed within MEDITECH's Greenfield Workspace environment. The result of this collaboration and integration is a "single pane of glass" into the patient experience and Luma-enabled touchpoints—all fully integrated into the MEDITECH Expanse experience.
"We are an organization committed to providing a quality patient experience. Collaborating with MEDITECH and Luma Health has empowered us to be adaptable in serving our community's needs," said Kurt Schmidt, Phelps Memorial's director of electronic health records. "Using APIs has resulted in more efficient workflows and a better digital experience for patients who want immediate access to their care."
Benefits for providers and patients alike
Phelps Memorial has experienced efficiency gains and improved patient experience by working directly with MEDITECH and Luma Health. For example, 81% of patients now complete digital intake instead of in-office paper forms.
Phelps Memorial is just one of the many healthcare systems now taking advantage of this deep integration, which uses MEDITECH Expanse APIs to connect appointment, demographic, and schedule data directly with Luma. Then, Luma sends rules-based text, email, and voice reminders to patients based on Luma Bedrock™ data-driven best practices.
When an appointment is confirmed through a Luma communication, the information is instantly sent back into MEDITECH, changing the appointment status to confirmed or canceled. This gives MEDITECH customers an up-to-the-second view of their day. Patients can also schedule their own appointments through Luma, and these appointments are immediately synced to MEDITECH's scheduling module via MEDITECH Expanse APIs.
[RESOURCE] How Luma integrates with MEDITECH
Want to see how Luma can supercharge your MEDITECH Expanse platform? Book a discovery meeting.