Enhancing Efficiency: Luma's Solutions for Staff and Patient Success
If the current healthcare landscape could be summed up in a question, it might be: do we have enough support staff right now?
As labor costs and staffing challenges increase across every functional area of care delivery, Luma is committed to delivering holistic success for patients and the healthcare system at large, so that your organization can focus on what it does best: providing high-quality care.
Because over 8 million active users interact with Luma on a daily basis, our goal as a platform is to continually adapt, rising to any challenge our customers face. At the end of the day, we strive for holistic success for not only patients, but the healthcare system at large. Staff engagement, efficiency, and satisfaction are key components of that success.
With this in mind, we are excited to announce that commencing on October 31st and continuing through the year's end, we'll be implementing automatic updates to introduce our customers to the new UI and features. Designed with staff efficiency in mind, these new products energize pre-existing workflows for the Luma power user.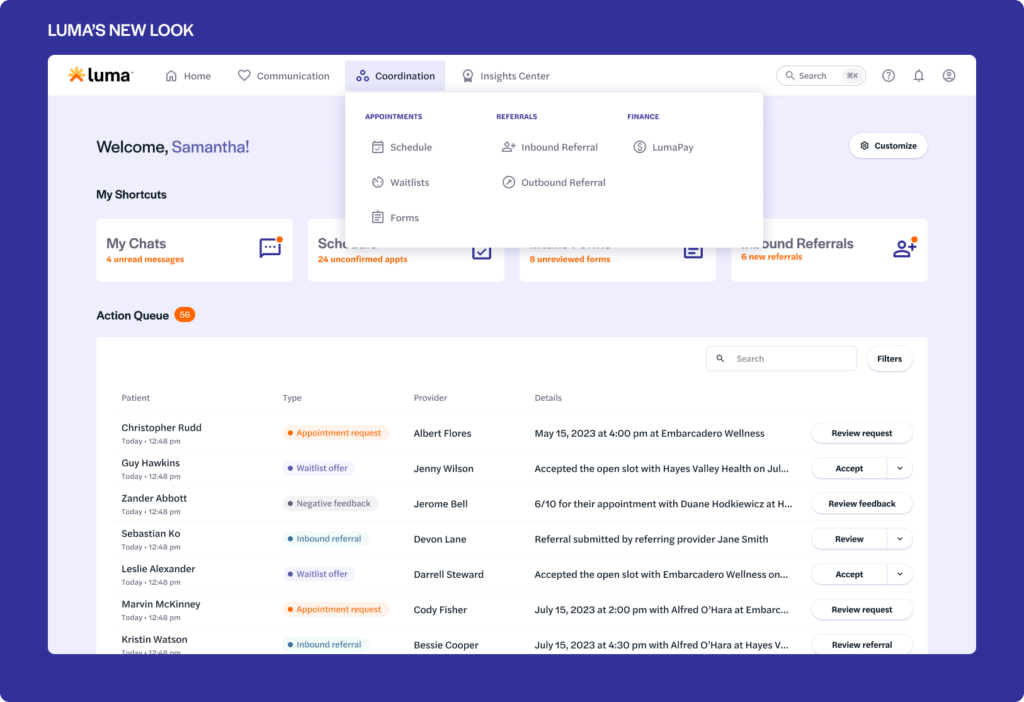 Updated User Experience
Enjoy a quicker, consistent, and more intuitive way to access our platform. The latest update brings staff a modern User Interface, a simplified navigation designed around key focus areas, and a customizable home page that significantly improves support for patient success. All of the following new products and user functionalities are available only in this new UI, completing the enhanced experience.
Scheduler Assist [early access]
Easier scheduling workflows, now at your fingertips. Scheduler Assist is designed to make staff members' jobs easier when actively working with patients. Smart workflows streamline the appointment management process, ultimately reducing call wait times, improving patient and staff satisfaction, and providing a direct financial impact on your organization.
Interested in learning more? Sign up for our Early Access program.
Insights Center
Make the most of staff time and create more successful patient journeys with actionable data. With patient behavior insights, visibility into the "true time" providers spend with patients, and more, it's easy for any role – no matter how reporting-savvy – to understand your organization's opportunities to better utilize providers or facilitate improved patient outcomes.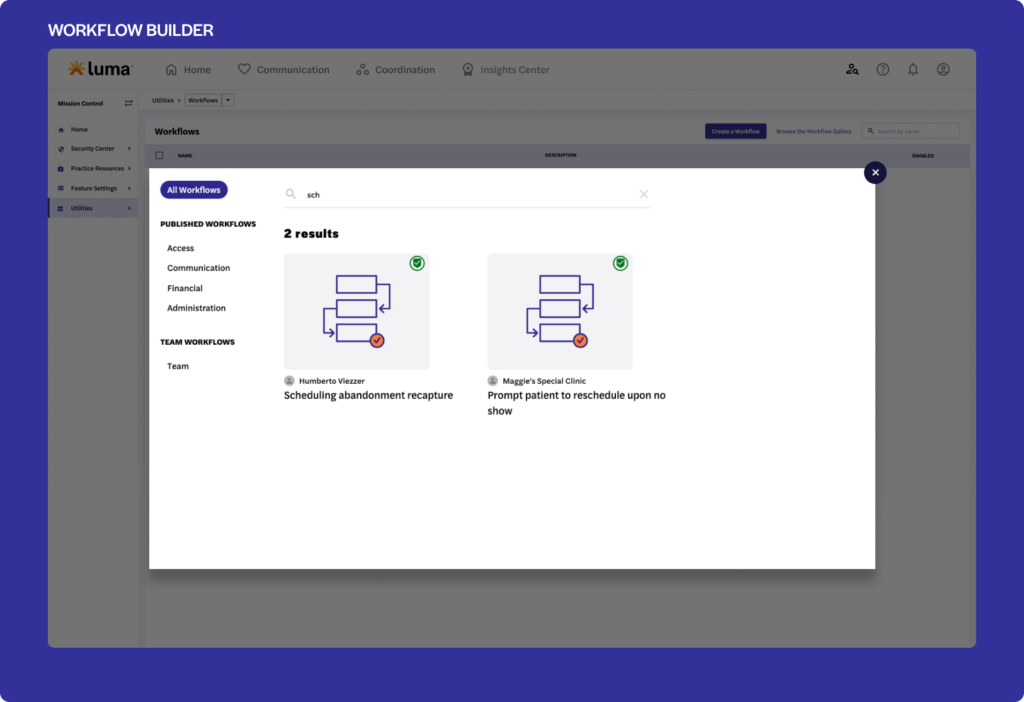 Workflow Builder and Workflow Gallery

Turnkey solutions to solve customer problems right off the shelf. Users can choose from a library of pre-built workflows from the Gallery to customize or create new workflows in Luma with an easy-to-use, drag-and-drop interface.
Message Template Translations
Translate templates to any supported languages with just one click. With the launch of our new UI, we've added the ability to automatically translate messaging templates in Mission Control. Now you can leverage AI to translate any of your messaging templates into one or more of our 33 supported languages with just the click of a button.
As we close 2023 and look to the healthcare landscape of 2024 and beyond, we want your team to feel more supported, excited, and energized than ever before. We're here to help guide that journey.