Patients as Partners: Three Guiding Principles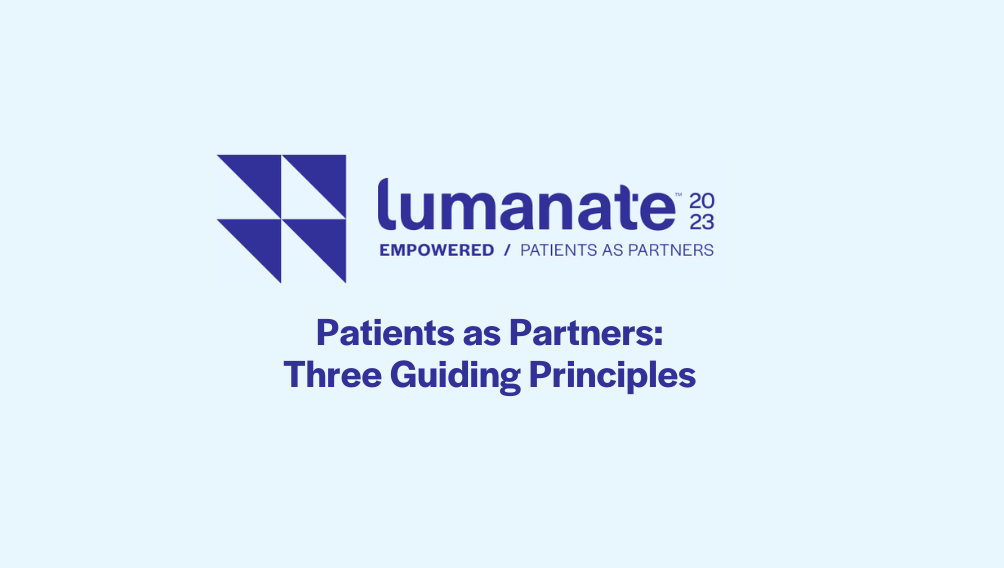 This year at Lumanate 2023, we centered around patient empowerment and partnership. Why this theme? Why now?
We know that the healthcare delivery landscape continues to increase in complexity – where patients (i.e. the customer) are seeking a great health outcome, alongside a stellar consumer experience.
Competition is further amplifying this challenge – patients (i.e. the customer) have far more options to choose from, be it a similar clinic down the street, retail care options like CVS Minute Clinic, or a virtual care option on their phone.
Given the numerous paths to achieving a patient's desired health outcome, delivering a stellar consumer experience is critical – patients want to play a part in managing their healthcare journey.

Recent research shows that it is a key consideration in their choice of providers.
Patients are 34% more likely to reschedule canceled appointments if they can do so directly from SMS. Luma Bedrock™, based on 8 years of data from 650+ healthcare organizations.
"The benefits of self-scheduling from the patients' perspective—satisfaction, time, convenience, and engagement—were increasingly referred to as potential rewards…obstacles [may] have historically been organizations' perceptions…Despite the lack of evidence-based barriers, use of self-scheduling has continued to be reported at low rates." Journal of Internet Medical Research 24(1): Jan 11, 2022.
"Patients see great potential in the ability to self-schedule appointments and request prescription refills, yet these areas are where provider investment and vendor delivery fall the most short of patient expectations. [When]asked what they most value in choosing a provider organization…patients are placing increased focus on provider organizations' digital access tools." "Patient Perspectives on Patient Engagement Technology 2022," KLAS Research.
Patients are often an underutilized resource. However, when empowered, patients take manual work away from staff and – unlike staff – a patient's self-service efforts are scalable.

This strategy doesn't require 'more technology' – rather, successful healthcare delivery organizations have focused on framing technology, workflows, and staffing trade-offs with a clear focus on 'what's the right thing to do for our customer/patient?".

Here are three guiding principles we've found to be critical in empowering patients:
Don't rely on the "digital front door" alone
The patient journey extends before and after the front door (and don't forget that some folks like using the garage door or side door).
Think digital-first, but not digital-only
Patients want an omni-channel experience (i.e. meet them where they are, and pick right back up where they left off) – that's not one-size-fits-all.
Look for "hidden" pitfalls to patient success
Areas where patients might have trouble reaching you or getting what they need.
It's time to empower patients. Let's get started together!
Want more Lumanate 2023 content, including a recording of Adnan Iqbal's kickoff? Visit lumahealth.io/lumanate