Total Patient Engagement custom-built for Epic
Luma Health is now available on App Orchard

Automate referral outreach and prompt patients to schedule appointments themselves.
Automatic, customizable, and unlimited reminders so that your patients can reply, reschedule, and even join waitlists.
Patient communication and access solutions built for Epic

Trusted by over 100,000 providers and health systems.
Enable staff to easily send custom messages directly to any segment of your patients.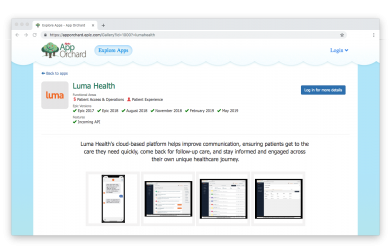 Epic community members can tap into Luma Health's powerful suite of solutions to drive access to care, reduce no-shows and cancellations, and streamline patient communications across the entire care journey.
Powerful Solutions for Epic
Benefits to your organization
Modern, intuitive interface that's easy to use


Easily customize your patient messaging, frequency, and timing



Generate powerful reports on a visual dashboard




HIPAA-compliant


TCPA-compliant


AD/LDAP supported


Data encrypted in motion and at rest with TLS1.2 and AES-256



Scalable to eliminate single points of failure and enhance scalability
Capabilities & Reliabilities
Total Patient Engagement Platform for end-to-end access and communication


Automatically increase referral conversion and reduce no-shows by over 66%


Send systemwide broadcasts to segments of patients



Two way, real time integration with Epic, Cadence, Prelude, and others
White-glove customer service from Epic experts


Seamless onboarding without the headache


Technical support on phone, email, or on-site by account



Dedicated Customer Success Manager to ensure success
Flexible and customizable
Increase referral conversion without the phone tag. Drive your patients to call or book directly with one click and get marked as "Ready to Schedule" as an Epic Referral.
Allow patients to seamlessly self-schedule appointments with real-time availability directly from Cadence.
Reduce strain on your Referral Coordinators while increasing revenue by streamlining referral conversion and minimizing referral leakage.
Customize the automated outreach and eliminate outbound phone calls.
Free up your Referral Coordinators
Smart, two-way reminders available in 17 languages go beyond simple appointment confirmations. Create customizable messages where patients can reply, reschedule, and even join waitlists.
Reduce no-shows and last minute cancellations for your practice with seamless patient engagement.
Optimize provider schedules and save time on tedious tasks. Get real-time stats on a patient's probability of attendance.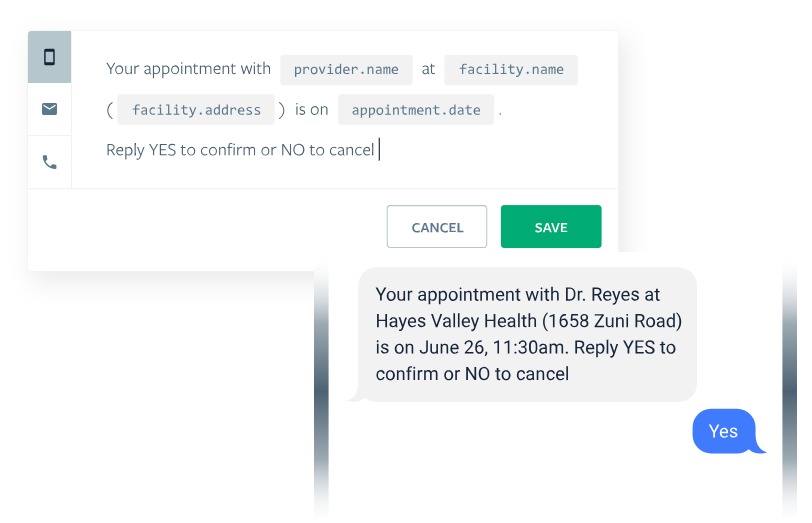 Reminders are and rescheduling directly with Cadence blocks and slots and customizable by the visit type, department, and provider.
Available in 17 languages to reach all your patients
Reschedule patients in mass
Mass-communicate to a group of patients about schedule changes, bad weather, or population health messaging.
Import patients from your favorite population health tool to mass message patients about missing care such as annual wellness exams, flu shots, and more.
Import lists from managed care organization or your ACO to help automatically schedule attributed patients to your organization.
Message patients on current schedule to rebook for last second shifts such as a sick provider, broken equipment, or inclement weather.
Convert patients from attributed lists
See how Epic community members are increasing patient communication and access with Luma Health.
"We see almost 2,000 patients monthly so both of our clinics are very high volume. I no longer have to deal with Excel trying to keep track of patients, and you've saved me hours of time!"
Medical Direct, Oregon Integrated Health
"We've already filled 30+ appointments that have directly generated about $7.5k in revenue. When we can't see a patient as soon as they'd like, we add them to the waitlist and Luma Health does the job for us!"
Practice Manager, Arizona Center for Urology
Clinic Owner
Houston Thyroid & Endocrine Specialists
"As a leading endocrinology clinic with advanced techniques in diabetic care, Luma Health helped us stay on top of communication technology in a way that our patients expected from us."