Why Patients Love Text: Four Reasons to Start Texting Patients Today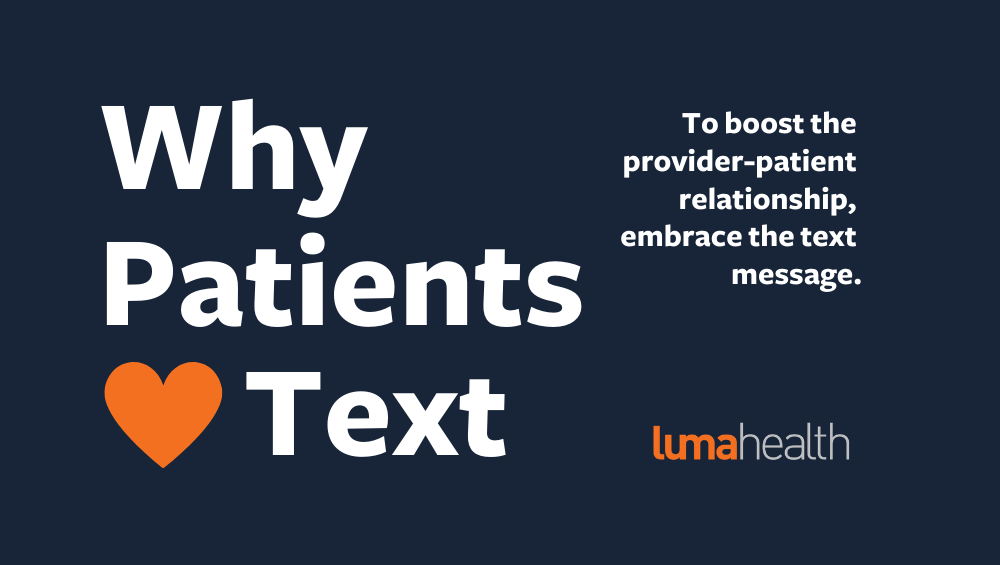 Snazzy waiting rooms and upscale service is great, but what patients really want is a better connection with their providers. When asked, patients prioritize providers who listen, are compassionate, and are good at explaining over other contributors to patient experience like cost, convenience, and transparency. Patients want a better connection with their providers, but that's not always possible when long wait times, minuscule appointment windows, and limited communication methods rule the patient experience.
To boost the provider-patient relationship, embrace the text message. Here are four reasons to start texting your patients today.
#1: Patients prefer text to other communication mediums. Seven out of ten patients want the ability to communicate electronically with their providers–to ask questions, report new symptoms, request prescription renewals, and more. Studies have shown that when patient-provider texting capabilities are in place, patient satisfaction is between 77% and 96%.
#2: People of all ages and backgrounds are texting. Text messaging is the most frequently used smartphone functionality. Ninety-nine percent of U.S. adults under 60 have a cellphone, and that's far greater than the numbers that own a computer or have a landline. Furthermore, many low-income and racial and ethnic minorities are more likely to have a smartphone than a computer.
#3: Over and over, text beats both email and phone calls. In healthcare, patients successfully receive 99% of texts. But, on average, people only open emails about 20% of the time and answer phone calls somewhere around 45% of the time.
#4: You can text your patients and keep things secure. Any time personal health information is being sent, Luma Health will route the message to a HIPAA-compliant chat platform. Share pictures, symptom updates, screening tools, video links, and more with information about how patients can improve their condition and get on the path to healthy.
Luma Health drives results for our customers through our simple, text-first technology.
By increasing the care team's reach beyond the organization's walls, patients are significantly more likely to schedule an appointment, confirm that appointment, and respond to messages from the organization. Not only does this increase access to care, improving health outcomes along with the patient experience, it helps drive additional revenue to your organization in terms of increased visits and optimized schedules.
Providers and patients are in agreement. Text messaging is the way to go when it comes to boosting your patient engagement efforts. One Luma Health customer, Becky from The Dermatology Clinic, said, "I have overheard multiple patients say how much they love text messages!"
Interested in learning how text can transform your organization? Download our infographic, "Why Patients Love Text", here. For more information about Luma Health or to request a text-first consultation, go to www.lumahealth.io.