Solve the Top Two Waiting Room Pain Points Plaguing Practices in the Age of COVID-19 with Luma Health's New Zero Contact Waiting Room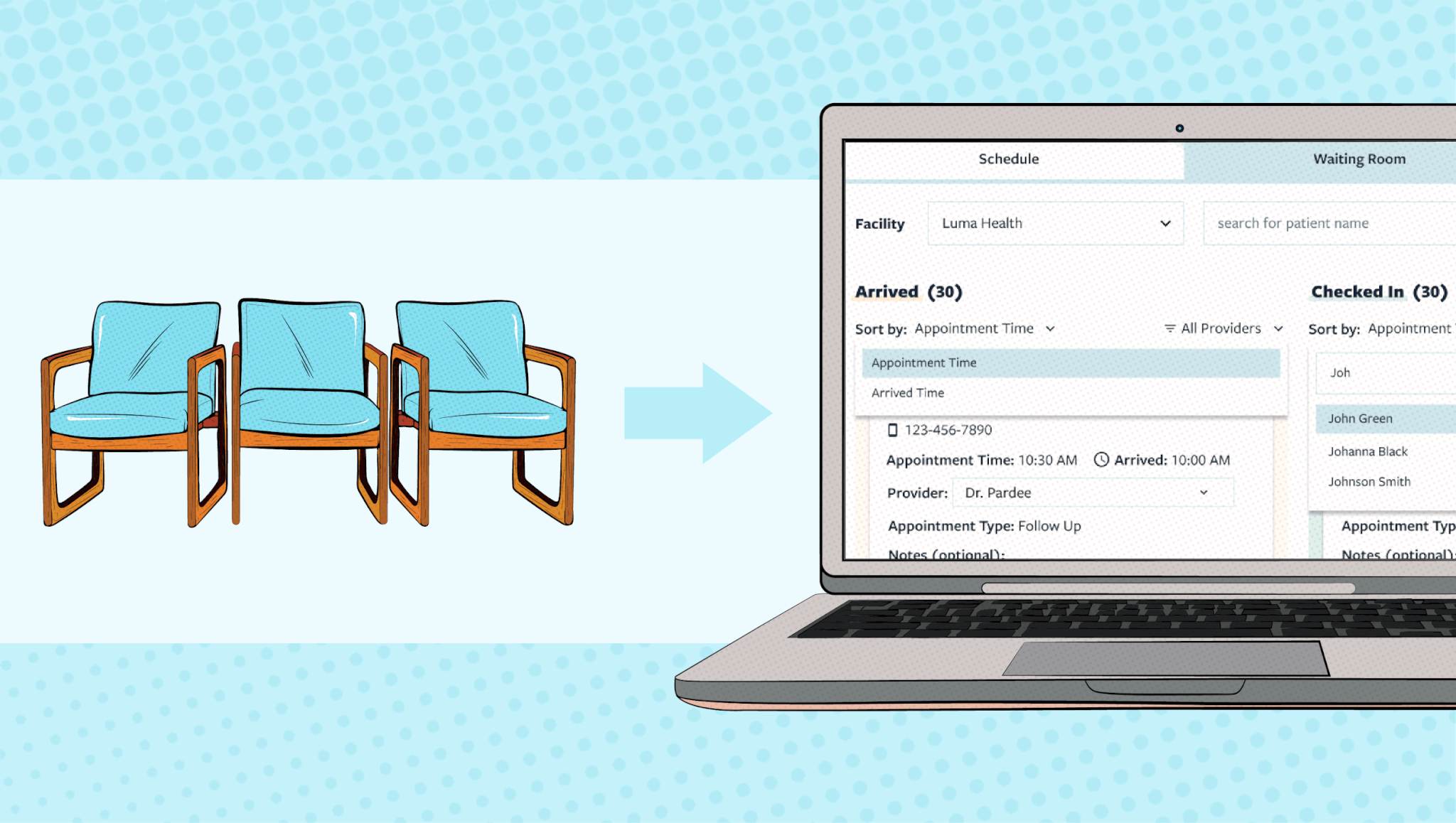 Medical practices across America are tentatively re-opening their doors as most states settle into the de-escalation stage of the COVID-19 pandemic.
The need to get patients into the clinic is two-fold:
1. Because certain visit types cannot be converted to telehealth visits, many patients have missed critical care appointments and treatments, and have fallen behind on their managed care plans. 2. Simultaneously, practices that rely on fee-for-service billing or and who are measured by certain quality metrics to maintain funding have experienced a dramatic decrease in revenues because of these missed appointments, which threatens future viability.
From the perspective of patient and provider, getting medical practices back open and operational is essential.
Enter Luma Health's new Zero Contact Solution Suite, which includes Zero Contact Check-In and Zero Contact Waiting Room.
This short video shows Zero-Contact Waiting Room in action:
Barriers to Re-Opening
One of the biggest challenges that practices face regarding re-opening, is how to manage the waiting room in this new reality. The waiting room has always been a pain point for most clinics — patients hate waiting.
But, with so many variables affecting the average day at a medical practice, it's been an unavoidable reality. Figuring out how to manage the waiting room is now more complicated than ever before, as new social distancing requirements add additional complexity to the mix.
Waiting Room Pain Point 1: Patient Satisfaction
It's well-established that passing time waiting for providers is generally not a positive experience for patients. Beyond causing an overall downward influence on patient satisfaction, research has found that long wait times can compromise patients' perception of the compassion of practice staff and confidence in the care delivered by medical professionals.
And it's not surprising why patients feel so frustrated. Research from Harvard Medical School found that the average doctor's visit consumed 121 minutes in a patient's day: 37 minutes in travel time, a whopping 64 minutes waiting for care or filling in forms, and only 20 minutes face-to-face with the doctor.
Waiting Room Pain Point 2: COVID-19 Anxiety and Social Distancing
With the COVID-19 pandemic, the need to keep people out of waiting rooms and away from other patients has taken on new urgency; it's no longer just an issue of patient satisfaction, it's also a question of public health. A recent survey released by Deloitte indicated that in the month of April, patient demand for elective procedures was down 54%.
Dr. Brian Hasselfeld, MD at Johns Hopkins Community physicians also noted a downward trend in patient visits at its practice, which has caused concern that patients may be ignoring serious signs and symptoms in an effort to observe physical distancing and avoid any exposure to the virus.
To encourage patients to seek the care they need, practices must be proactive in establishing and communicating processes that allow patients back into the clinic, without risking unnecessary exposure to the virus.
From this need, Luma Health's newest product offering was born: Zero Contact Waiting Room.
Inspired by the Food Service Industry
Most of us have been to one popular restaurant or another where the number of people wanting a table are far greater than the number of tables available. The restaurant waiting areas typically only have a few chairs; hungry patrons milling around is distracting and poses a hazard to the restaurant staff who have to pass through the area as they rush from one table to the next. And as patrons get hungrier, their grumbling about wait times gets louder, leaving the poor host dealing with disgruntled people who just want to eat.
To tackle this problem, many restaurants have implemented a pager system where patrons are given a device that buzzes when it's their turn to be seated. This lets the hungry party wait outside, go to the bookstore next door, or grab a coffee at the Starbucks across the parking lot while they wait.
Restaurant patrons can turn wasted time waiting into a part of their outing, the restaurant's staff members don't have to repeatedly answer the same questions about wait times, and the number of fire code violations in the restaurant entrance are dramatically reduced.
Luma Health's Zero Contact Waiting Room solution leverages this same principle: patients would rather wait for their appointments on their own terms, where they choose to wait, rather than in a cramped waiting room.
And with the COVID-19 pandemic still a significant public health concern, Zero Contact Waiting Room allows patients to bypass waiting around in close quarters with strangers. Rather than using practice-owned devices, though, Luma Health's Zero Contact Waiting Room harnesses the power of the device patients already have — mobile phones.
HOW IT WORKS
1. Patient Arrival with Zero Contact Check-In: Luma Health's Zero Contact Waiting Room seamlessly pairs with Zero Contact Check-In for a completely contactless patient triage experience. Prior to the patient's appointment time, the patient is sent a text message instructing him to reply back upon his arrival at the clinic. When this message is received, the patient is placed into an "Arrived" queue within the Luma Health platform. At this point, the Zero Contact Waiting Room kicks in.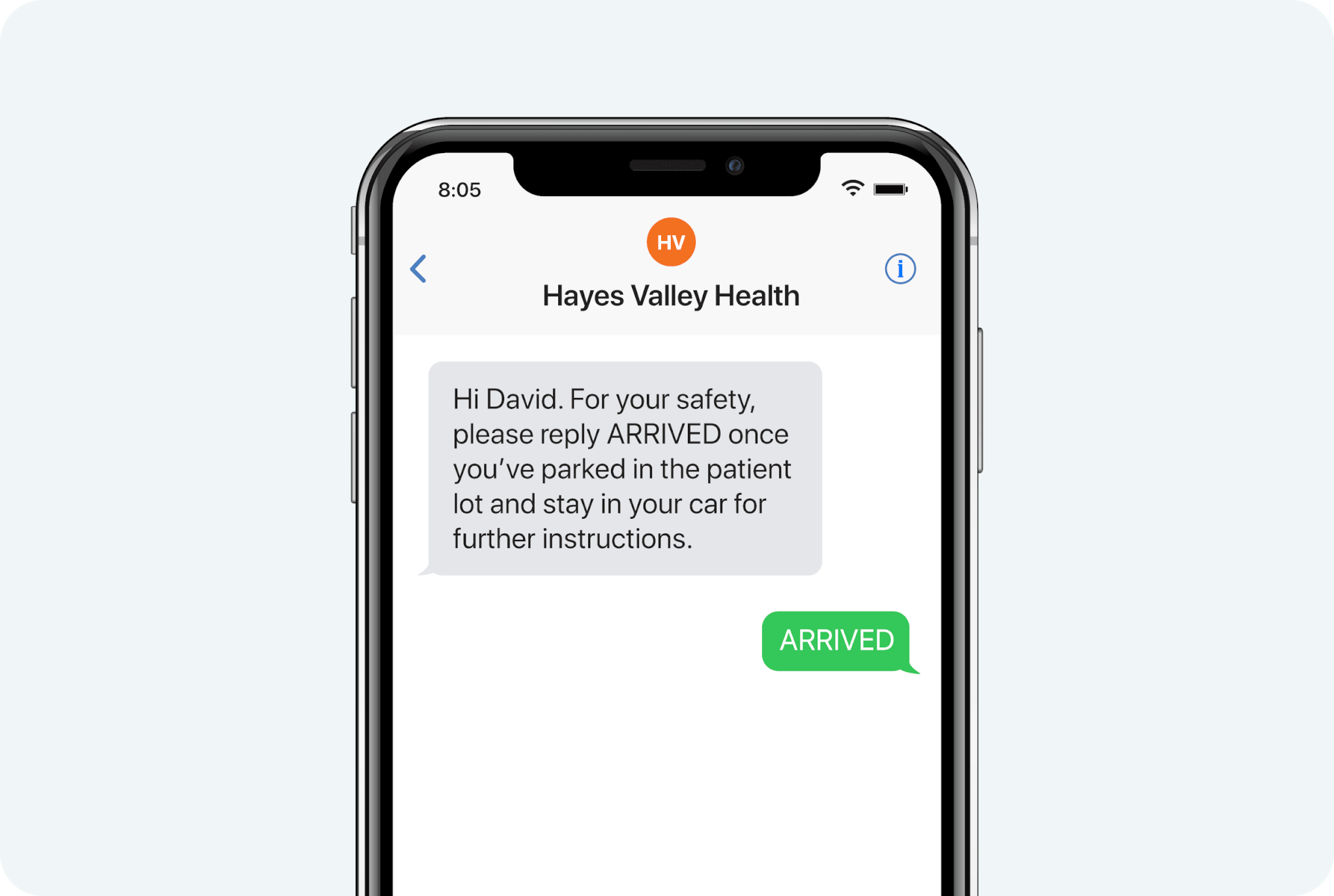 2. Patient Readiness with Zero Contact Waiting Room: When the patient has Arrived, Zero Contact Waiting Room will automatically send the patient instructions on how and where to wait. This messaging can be customized to your practice, and in the case of multi-location practices, by location. Additionally, any required intake, insurance or payment forms can be instantly delivered directly to the patient's phone for completion.
3. Room Is Ready Notification: As providers work through their appointment roster, the patient is automatically moved up the queue; when it is time for patients to proceed to an exam room, they are sent a message directing them to the correct location. This signals to patients that it's time to leave their car, the coffee shop, or wherever they may be waiting, and get ready to see their provider. At this time, the patient is moved over to the "checked-in" queue, indicating to the provider that the patient is ready.
Open Up Your Waiting Room to Anywhere
Zero Contact Waiting Room allows patients to complete essential in-office visits without ever needing to interact face-to-face with anyone except their doctor or healthcare provider.
Plus, because the patient can now pass their waiting period as they please, where they please, the time spent waiting becomes more enjoyable. Clinic staff are also protected from the steady flow of patients at the front desk, limiting their potential risk of exposure from unnecessary interactions.
Zero Contact Waiting Room can also be deployed with traditional, in-person appointment check-ins should practices prefer to have their staff complete confirmation of patient arrival and triage functions. To learn more about how to implement Zero Contact Waiting Room for your practice, request a personalized demo.