Product Feature: Smart Reminders – Part 1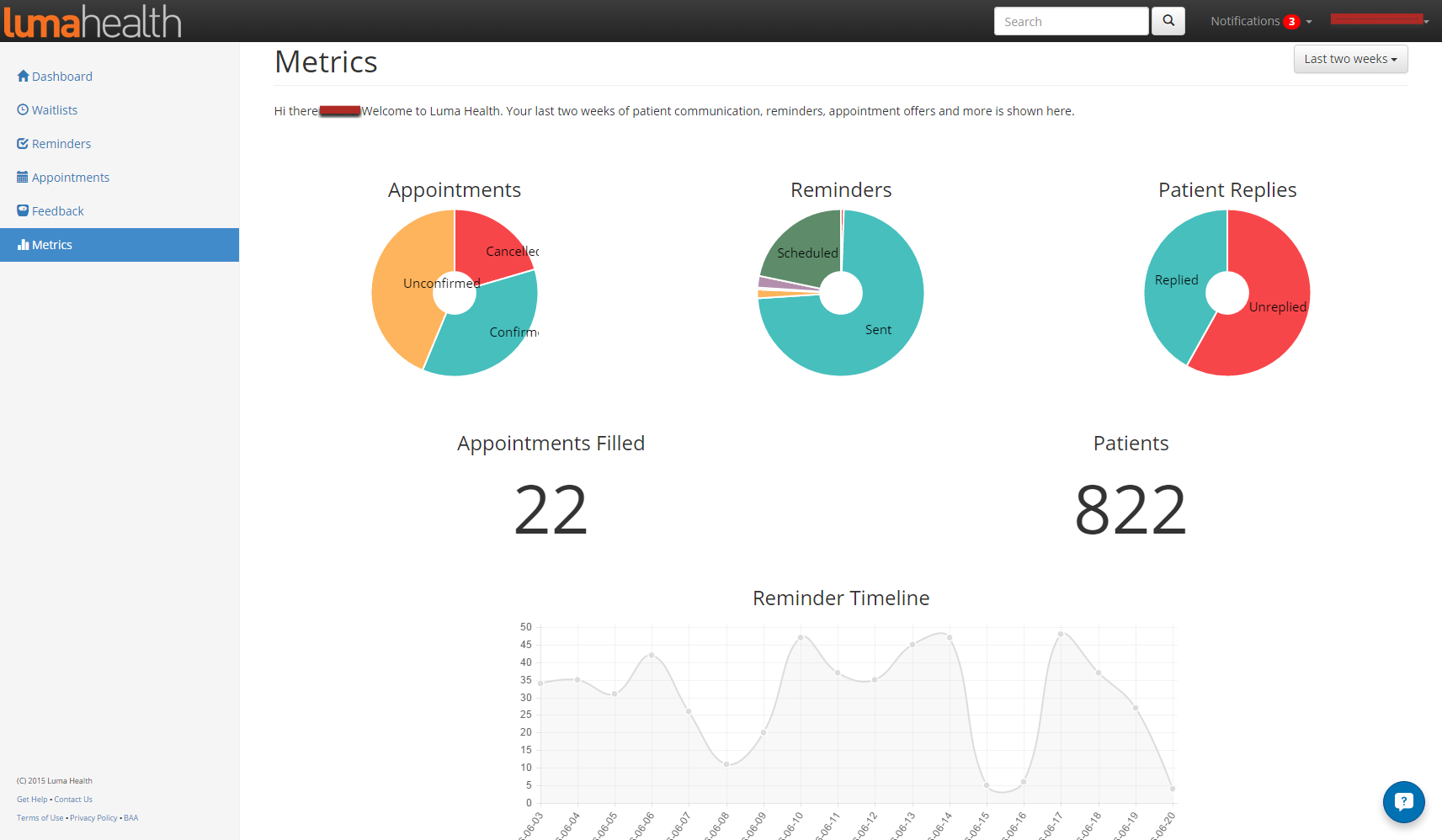 When we first began Luma Health, our sole focus was building a product that would reduce appointment cancellations and save you time. Customers were unhappy with their current service and hadn't seen any innovation since the day they signed up. So, we quickly realized there was a need … for innovation. We decided to lead the charge.
So, what's special about our reminder service?
Real Time Confirmations, Tracking, and Message Logs
The ability to see responses coming in real-time to pre-appointment notifications helps clinics keep track of and manage their schedule. While logged into our service, you can enable pop-up notifications, which will alert you immediately when a patient cancels. Being able to catch these cancellations as they happen helps ensure that not only is the new opening filled but that the patient who cancelled is also able to immediately schedule a follow-up appointment.
You can also track in real-time the status of each message that's been sent out. For both text messages and emails, we allow visibility into whether or not it was delivered and/or opened.
As you can see, with Luma Health, you get a real-time log of what patients said in relation to a specific appointment and the specific waitlist they replied to. Depending on the communication technology, Luma Health can show your practice even more information, including if the patient opened the email, if it was delivered to them, if they replied to a text, and more!
Metrics & Data in Real-Time
Several of our customers switched to Luma Health from other reminder services. One of the biggest challenges they faced with their previous service was a lack of easy accessibility to aggregate response data. They could only receive monthly or weekly reports and in the form of a PDF. With Luma Health, you have access to your data in real-time. We collect the data and let you sift through it in real-time through our dashboard.
We have only really begun to scratch the surface of what is possible and innovate with our Smart Reminder product. Stay tuned for Part 2 next week to find out more about the fully customizable features our of Smart Reminder that can change the way you interact with patients.
Reminders are just one feature that Luma Health offers. To learn more about our automated waitlists, cancellation management, appointment confirmation texts, referral management, and patient recall, click here!
Lauren Frontiera helps manage social media and content creation at Luma Health. When she's away from her computer, you can find her adventuring outdoors or indulging in her love of cooking.