No More No-Shows For Your Clinic or System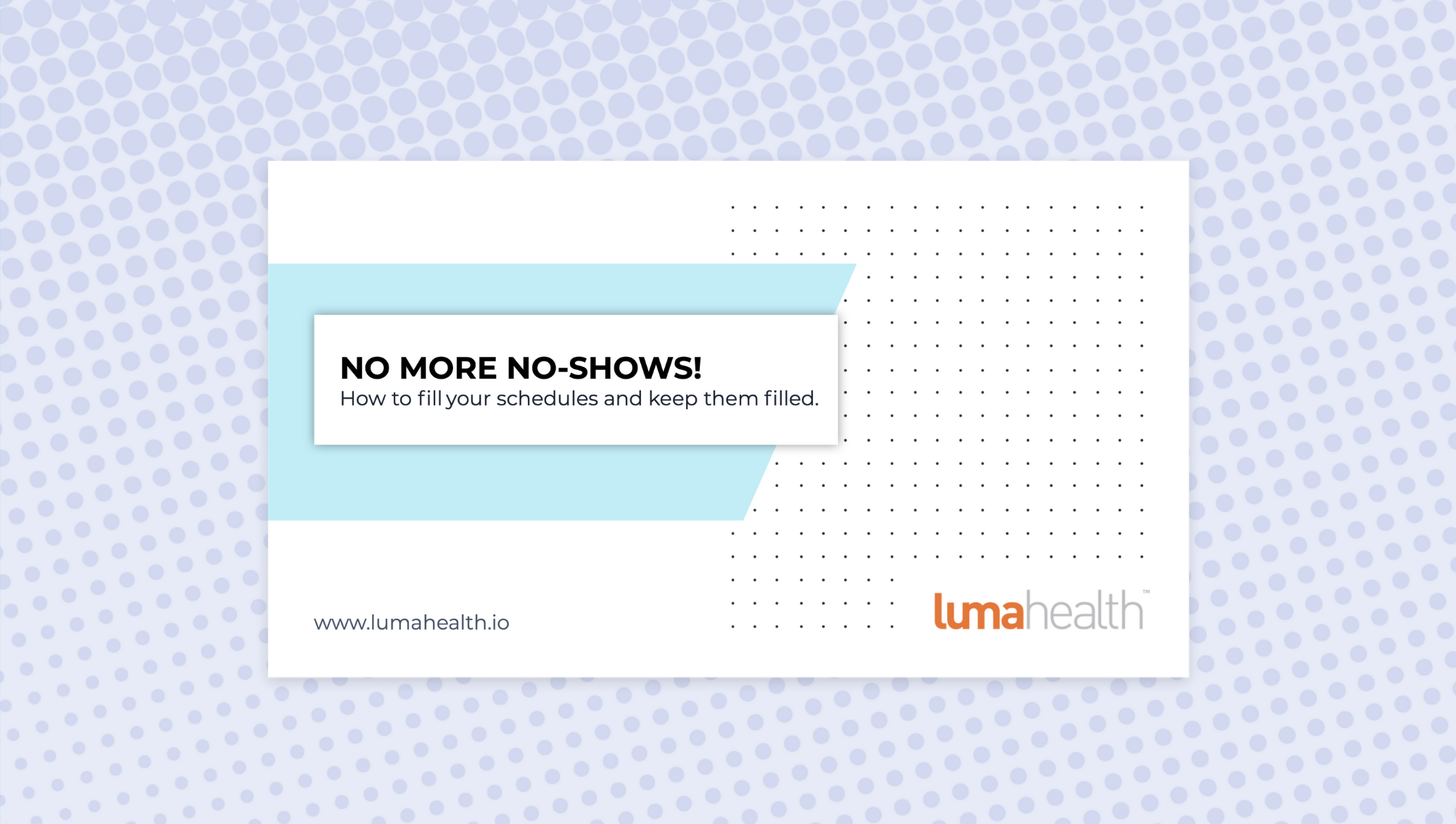 Last week we wrapped up our webinar series called No More No-Shows! We all know no-shows and cancellations are bound to happen. Schedules change, work creeps up, kids get sick, you know the drill. But the key is to minimize the impact of no-shows and cancelled appointments, making sure patients get access to the care they need, provider time is put to its best use, and revenue is maximized.

Our approach at Luma Health is to take a look at a comprehensive no-show and cancellation management strategy. That means there's no one-size-fits-all approach. It also means not relying stiff patient no-show penalties, no point solutions, and no tedious tasks. After all, the best approach to no more no-shows is one that works for you and your patients, not the other way around.

Smart Cancellations
We kicked off our series by talking about what a smart cancellation looks like (and yes, we do believe they exist!). Capturing cancellations as early as possible, and as simply as possible, allows you to quickly fill those empty appointment slots and recoup any potential lost revenue.

Here are our principles of smart cancellations:
Principle #1: Make it easy for patients to cancel early and reschedule
Principle #2: Deploy a smart patient waitlist to automatically fill empty appointment slots
Principle #3: Remind patients about upcoming appointments early and often
Our three-pronged approach to cancellation management makes sure you have all the information you need to fill your provider schedules and keep them filled, and reduces your call volume along the way.

Better Reminders
Automated appointment reminders are the real star when it comes to no more no-shows. But not just any reminder will do. Two-way, text-first reminders that allow patients to reply, confirm, ask questions, reschedule, or cancel directly from a text are essential.

Chuck Leider, Director of Health Informatics at Houston Ear, Nose, Throat, & Allergy stressed the importance of a sophisticated text reminder system. After implementing Luma Health, Houston ENT lowered their no-show rate from 15% to 6%, resulting in $1.8 million in annual revenue. For them, better, text message reminders led to better attendance which increased access to care as well as their bottom line.

Combining a smart approach to cancellation and upgrading your appointment reminders is a sure-fire way to fill your schedules, and keep them filled. Want to learn more about how to reduce no-shows and fill your schedules? You can watch our No More No-Shows webinar recording and get the slides here.