Luma Health Maximizes Patient Happiness by Modernizing Patient Intake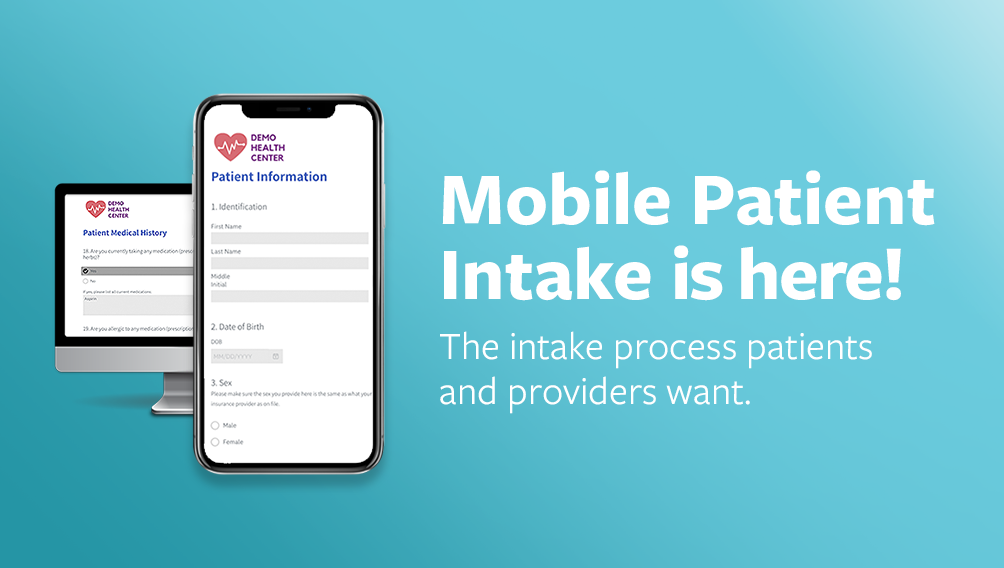 Mobile Patient Intake Delivers Modern Convenience for Patients, Reduces Wait Times, and Optimizes Front Office Workflows

SAN FRANCISCO (PRWEB) May 16, 2019
Luma Health, the leader in total patient engagement, today announced it has launched Mobile Patient Intake. This new solution helps providers deliver a top-notch patient experience by giving patients the option to complete the intake process at their own convenience, on their device of choice, days or weeks prior to their appointment. By doing so, patients spend less time in the waiting room filling out lengthy forms. Providers get the data they need ahead of time to better prepare for and engage with the patient during the visit–no proprietary hardware necessary. Available now, Mobile Patient Intake is the latest addition to Luma Health's industry-leading patient engagement platform.

For countless patients and providers, the intake process has become a care bottleneck. Completing intake forms on clipboards, archaic kiosks or bulky, proprietary tablets compromises the patient experience with lengthy waiting room delays. Furthermore, these out-of-date intake processes waste valuable staff time spent inputting forms into the EHR. By waiting to capture patient information on appointment day, the valuable data patients provide neither meaningfully contributes to the care they receive nor helps providers make the most out of a limited appointment time slot.

Mobile Patient Intake circumvents the patient intake bottleneck. Providers get the critical patient data they need before appointment day. Front-desk paperwork becomes a thing of the past, as do the countless handwriting interpretation errors that can occur with paper intake forms. Finally, patients now have the option to complete the registration process at their convenience on their mobile device prior to their visit, boosting their overall satisfaction.

Allowing patients to complete intake and registration forms on their own time and from their mobile device or computer can save them considerable time in the waiting room — up to 50% of waiting time.* One dermatology clinic increased its Net Promoter Score from 83.84 to 87.14 in just 30 days after implementing Mobile Patient Intake.

"Implementing Mobile Patient Intake has resulted in a measurable boost in our NPS score," said Kristine Walters, Director of Operations at Metropolitan Dermatology. "Patients love having the option to complete intake pre-appointment — it saves them time in our waiting room and helps us better prepare for their visits. Armed with better intel about why they're coming in for an appointment and their medical history, our docs can have better and more efficient conversations."

Providers using Mobile Patient Intake can capture eligibility details such as insurance information and consent forms with e-signatures and automatically verify patient's insurance to help prepare financially for an upcoming visit. Fully customizable, HIPAA-compliant forms allow providers to capture the patient-reported data points that matter most.

"Mobile Patient Intake transforms the way providers and patients interact pre-appointment," said Adnan Iqbal, CEO and co-founder of Luma Health. "By putting the control back in the hands of the patients — and allowing them to complete the intake process at their convenience — we hope to contribute to more meaningful and more productive conversations during the appointment window."

Luma Health's patient engagement platform is used by over 100,000 healthcare providers to initiate care and guide patients to a healthier life through frictionless and highly engaging communications.

Learn more about Mobile Patient Intake and request a demo here.

About Luma Health
Luma Health's mission is to empower leading healthcare providers to deliver personalized and engaging experiences across the entire patient journey. Its Patient Engagement platform enables health providers to manage the patient journey and optimize every interaction to maximize patient outcomes, boost top-line revenue growth, reduce total cost of care, and boost patient retention.

Headquartered in San Francisco, CA, Luma Health's platform is modernizing communication
by delivering smarter conversations that drive patient engagement and continuous care, with over 100,000 providers and over 6 million patients across the U.S. today. Additional information about the company is available at lumahealth.io, Luma Health Blog, LinkedIn, Facebook, @lumahealthhq.

*Vitals Index, 2019