Luma Health and OSIS Partner to Offer Mobile-first Patient Engagement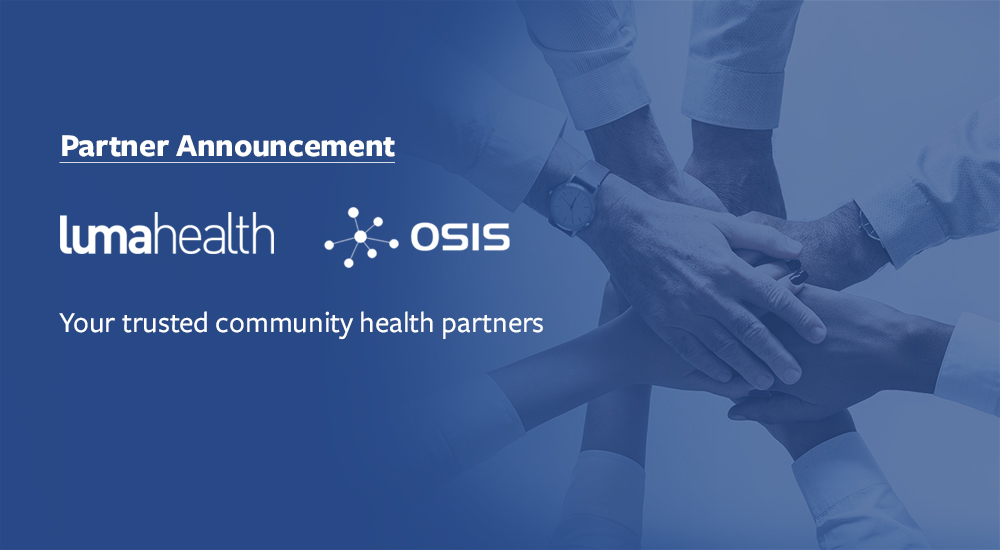 As a preferred vendor within the OSIS Partner Program, Luma Health can now be leveraged by OSIS members for patient engagement technology to boost access to care and health outcomes in communities across the country.
Luma Health https://www.lumahealth.io/, the leader in total patient engagement, and OSIS http://www.osisonline.net/, a Health Center Controlled Network providing EHR and technical support to Federally Qualified Health Centers (FQHCs and community health centers), today announced a ground-breaking partnership to provide the OSIS Network of over 1.1 million patients access to the Luma Health patient engagement platform.
SAN FRANCISCO AND CINCINNATI (PRWEB) APRIL 25, 2019
OSIS works with its 50 member health centers to provide EHR training, patient-centered medical home support, revenue cycle management optimization, and much more to inject increased efficiency into health center operations. As a result, health centers are able to scale their capacity to increase access to care in the communities they serve and move the needle on population health outcomes. The Luma Health patient engagement platform will take this work to the next level by offering a patient engagement solution to member health centers, supporting the goals of increased access to care and improved health outcomes through smart, tailored technology.
With Luma Health, health centers can streamline their outreach efforts, patients can self-schedule appointments, providers can reduce no-shows and optimize their schedules through smart reminders and waitlists, and health centers can reach outside the four walls of their clinics to deliver patient-specific health education content in more than 17 languages. Providers using the Luma Health patient engagement platform have seen their no-show rates drop by as much as 50%, tripled their outreach conversion rates, and increased access to preventive care by over 30%.
"Luma Health is a perfect example of how our new OSIS Partner Program provides our network of community health centers with top-class technology to help them deliver better care," said Aleicia Ennis, manager of business development and marketing at OSIS. "When it comes to patient engagement, including two-way conversations, intelligent scheduling and automated referral management, Luma Health has one of the most powerful solutions on the market."
"This partnership reinforces Luma Health's commitment and emphasis on providing value to the world of community health," said Ramesh Munnangi, Director of Business Development at Luma Health. "The numbers speak for themselves–working together, Luma Health and health centers can drive better access to the essential services health centers provide. We're proud to be able to offer our services to OSIS' network of community health centers, and we look forward to working together to enhance access to care."
To learn more about the Luma Health platform, visit https://www.lumahealth.io/platform. For more information on the partnership between Luma Health and OSIS, visit https://www.lumahealth.io/osis.
—
About Luma Health
Luma Health's mission is to empower leading healthcare providers to deliver personalized and engaging experiences across the entire patient journey. Its Patient Engagement Platform enables health providers to manage the patient journey and optimize every interaction to maximize patient outcomes, boost top-line revenue growth, reduce total cost of care, and boost patient retention.
About OSIS
OSIS, a 501(c)3 based out of Cincinnati, is the largest network of NextGen health centers in the U.S. Currently representing over 50 health centers, in 500 locations across 30 states, OSIS specializes in the implementation, customization, optimization, training, and ongoing support for NextGen Healthcare's EPM and EHR Systems. We also provide a wide range of advisory services and IT support customized to the unique demands of Health Centers. For more information about OSIS, please visit http://www.osisonline.net/, https://www.linkedin.com/company/osis-ohio-shared-information-systems-/,https://www.facebook.com/osisonline.
Contact
Alan Tam
alan@lumahealth.io
Contact OSIS
Aleicia Ennis
aleicia.ennis@osisonline.net