The Ohio Association of Community Health Centers Partners with Luma Health to Streamline Access to Care Throughout the State of Ohio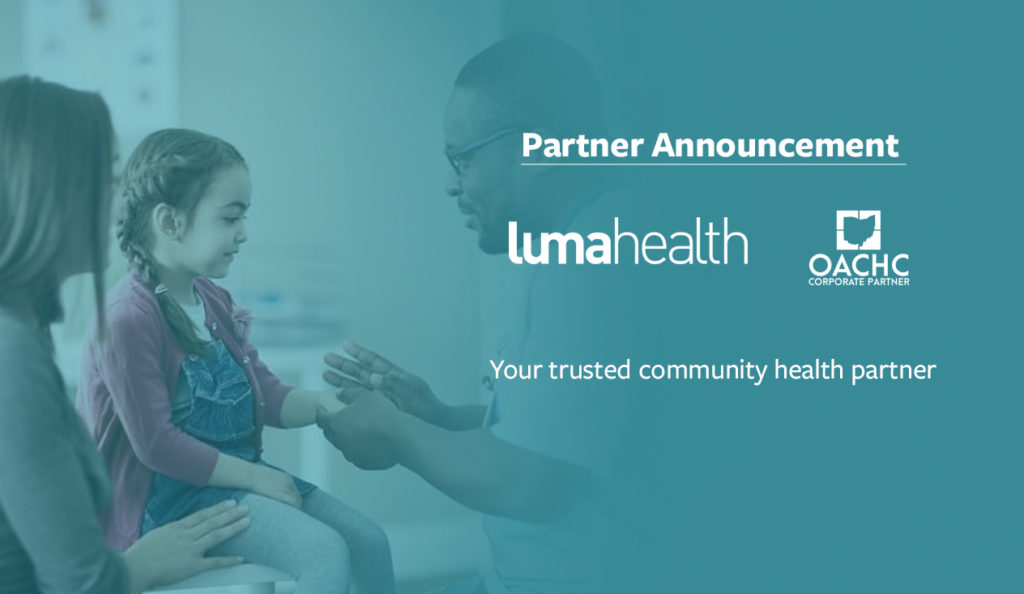 Luma Health's Patient Engagement Platform Will Help OACHC Health Centers Transform Access to Care, Activate Underserved Patients Through Multilingual Messaging, and Better Manage Patients with Chronic Diseases
SAN FRANCISCO (PRWEB) MAY 02, 2019
Luma Health https://www.lumahealth.io/, the leader in total patient engagement, today announced that it has been selected as a strategic corporate partner by the Ohio Association of Community Health Centers (OACHC) https://www.ohiochc.org/ to modernize and accelerate access to care for more than 800,000 patients and countless communities across Ohio. The partnership between Luma Health and OACHC will empower Ohio's 55 Federally Qualified Health Centers (FQHCs) with cutting-edge technology to boost access to care and implement patient engagement best practices, ultimately strengthening the health of Ohio's communities.
FQHCs are committed to providing comprehensive primary and preventive health care services to all through a patient-centered approach, and to making that care accessible and impactful to a diverse patient population through additional support services ranging from health education to transportation. Using mobile-first patient engagement technology, the Luma Health platform supports this patient-centered approach by facilitating consistent communication between health centers and the populations they serve with personalized communication throughout the entire patient lifecycle.
With Luma Health, health centers can streamline outreach efforts, patients can self-schedule appointments, providers can reduce no-shows and optimize their schedules through smart reminders and waitlists, and health centers can reach outside the four walls of their clinics to better deliver patient-specific health education content in 17-plus languages. Together, health centers and Luma Health will drive improved communication between patients and providers during and outside of traditional office visits, speeding access to care for more patients and helping providers deliver a better experience and improved outcomes.
"The OACHC is tasked with finding solutions to help with clinical pain points among our member health centers," said Randy Runyon, president and CEO of the OACHC. "Specifically, we wanted a multilingual solution that could support health centers' efforts to increase access to care and fill care gaps while also driving down no-show rates and supporting chronic disease self-management. The capabilities of the Luma Health platform address these needs."
"Health centers and Luma Health together have a proven record of success in moving the needle on community health," said Adnan Iqbal, CEO and co-founder of Luma Health. "By leveraging the Luma Health platform, one health center was able to more than triple their outreach conversion rate and increase access to preventive screenings by more than 30%. We are proud and excited to partner with OACHC to drive an even greater impact for Ohio's communities."
To learn more about the Luma Health platform, visit http://www.lumahealth.io/platform. For more information on the partnership between Luma Health and OACHC, visit http://www.ohiochc.org/luma.
—
About Luma Health
Luma Health's mission is to empower leading healthcare providers to deliver personalized and engaging experiences across the entire patient journey. Its Patient Engagement Platform enables health providers to manage the patient journey and optimize every interaction to maximize patient outcomes, boost top-line revenue growth, reduce total cost of care, and boost patient retention.
Headquartered in San Francisco, CA, Luma Health's platform is modernizing communication by delivering smarter conversations that drive patient engagement and continuous care, with over 160,000 providers and over 6 million patients across the US today. Additional information about the company is available at http://www.lumahealth.io, http://www.lumahealth.io/blog/, http://www.linkedin.com/company/lumahealth/, http://www.facebook.com/lumahealth, @lumahealthhq.