Luma Health and Nextech Systems Announce Partnership to Enhance Patient Engagement and Boost Practice Revenue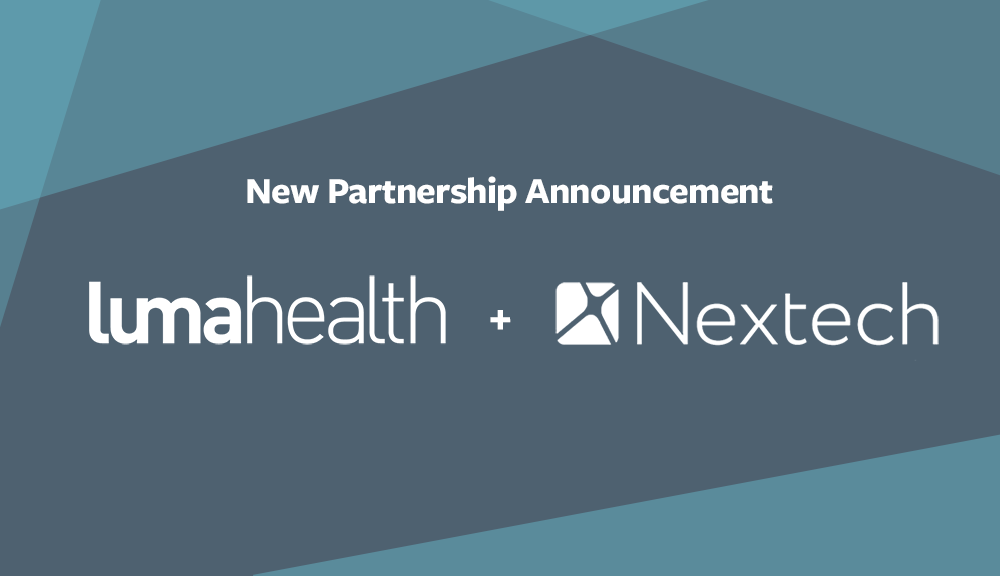 This partnership gives Nextech customers access to Luma Health's innovative capabilities, including Smart Conversations with patients, Intelligent Scheduling and automated Referral Management.
Luma Health, the leader in patient engagement, today announced a new partnership with Nextech Systems, a leading healthcare technology provider for specialty physician practices. Under the partnership, Nextech's network of clients can now utilize Luma Health's patient engagement platform to better engage their patients in their own care while freeing physicians to spend more quality time administering care.
All of Nextech's specialty medical practices – including ophthalmology, dermatology, plastic surgery and orthopedics – will have the ability to rely on Luma Health to manage engagement across the patient journey, including intelligent scheduling, automated referral management, mobile-first patient communications, reputation management and virtual collaboration with other physicians.
"We are excited to partner with Nextech and be included in their marketplace of selected vendors," said Adnan Iqbal, co-founder and chief executive officer of Luma Health. "The partnership between Luma Health and Nextech will help our joint customers improve communications and engagement with their patients and streamline their business processes. This will drive improved healthcare for Nextech patient populations and greater revenue for its practice groups — a win win for all concerned."

"As Luma Health helps to set a new standard in patient engagement, Nextech joins them in offering our specialty practices easy access to their platform," said Wyn Partington, Nextech's chief marketing officer. "We look forward to our collaboration and extending their capabilities to drive enhanced patient-provider interactions that will eventually lead to improved healthcare outcomes."
Luma Health's patient engagement platform will help Nextech customers optimize the patient experience, ultimately improving outcomes and maximizing revenue.
For more information on Luma Health's partnership with Nextech Systems, please visit www.lumahealth.io/nextech-partner