Luma Health Joins athenahealth's Centricity™ Partner Program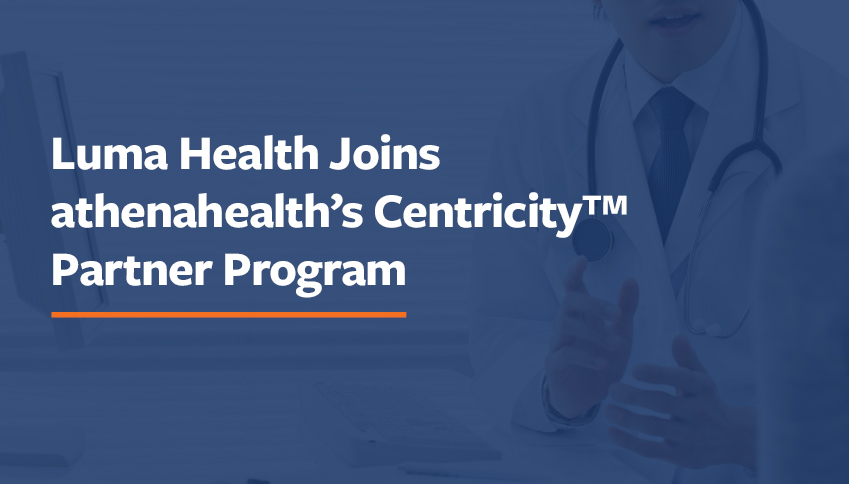 Partnership Empowers athenahealth's Network of Healthcare Providers to Easily and Efficiently Engage with Patients Across Their Care Journey
SAN FRANCISCO (PRWEB) MARCH 26, 2019
Luma Health, the leader in patient relationship management, today announced that it joined athenahealth's Centricity Partner Program. The program recognizes Centricity software and services partners and verifies their use in conjunction with certain Centricity solutions.
"We're delighted to welcome Luma Health as an official strategic partner," said Neeti Gupta, Strategic Partnerships Leader for Centricity solutions at athenahealth. "Through this collaboration, our customers will have the opportunity to choose Luma Health's industry-leading patient engagement platform to improve the patient experience and drive success in their organizations."
The Luma Health patient engagement platform enables providers to place patients at the center of care with targeted communication throughout the entire patient lifecycle. Using mobile-first communication, which provides a powerful and ubiquitous form of patient engagement, Luma Health's EHR-integrated solution provides critical support for value-based clinics and physicians to maintain consistent interactions with patients and support improved health outcomes. With Luma Health, providers can easily schedule and ensure their patients show up for appointments, better educate and prepare patients before and after medical procedures, and drive improved communications between patients and providers during and outside office visits.
"With the American healthcare system focusing more on the value of care that it's delivering, innovation is transforming the way providers, patients and systems communicate with one another. So much of what affects health outcomes has little to do with a patient's office visit, but is tied more to what happens in between them," said Adnan Iqbal, co-founder and CEO of Luma Health. "By partnering with athenahealth's Centricity Partner Program, our shared customers will be able to take advantage of the Luma Health patient engagement solution to empower patients to drive and control their own health journey with clear and consistent guidance from their doctors."
athenahealth is a network-enabled, results-oriented services company that offers medical record, revenue cycle, patient engagement, care coordination, and population health services across the continuum of care. The company's vision is to build a national health information backbone to help make healthcare work as it should.
For more information on Luma Health's patient engagement platform, please visit http://www.lumahealth.io/product/.