How Has COVID-19 Impacted Access to Healthcare?
by Hannah Robinson, Business Strategy Analyst
A longitudinal analysis on appointment cancellation rates between March and May 2020
As COVID-19 spread across the United States it created an unprecedented challenge for ambulatory and non-critical healthcare providers to maintain access to care for their patients. On average, practices reported a 55% decrease in revenue and a 60% decrease in patient volume since the beginning of the pandemic.
Luma Health supports 15 thousand facilities serving a combined 14 million patients across the country. As the path of the virus continues to unfold we have been monitoring how healthcare appointment cancellation rates at clinics around the United States have been impacted, the resulting implications for business revenue and care gaps, and the potential for emerging Telehealth solutions to fill the gaps.
In order to derive the extent of appointment cancellation rate irregularity at a clinic in a given week, we first determined the average appointment cancellation rate per clinic for appointments scheduled in 2019. To normalize cancellation rates across different clinic sizes, specialties, and operational workflows our analysis relied on standard deviation: a measure of the average distance between the values of a dataset and the mean as an indication of sample set variation. We used the clinic-specific standard deviation values as the variable to express weekly appointment cancellation rate magnitudes of abnormality on a clinic by clinic basis.
Interpreting the maps: the relative size of each bubble represents how abnormal the appointment cancellation rate per clinic location for that given week was as compared to the 2019 baseline. The color of the bubble indicates if the deviation was above or below average, ie. increased cancellation rates vs decreased cancellation rates.
March: Week 1
March: Week 2
On March 15th New York City's public schools system, the nation's largest with 1.1 million students, announced that it would close.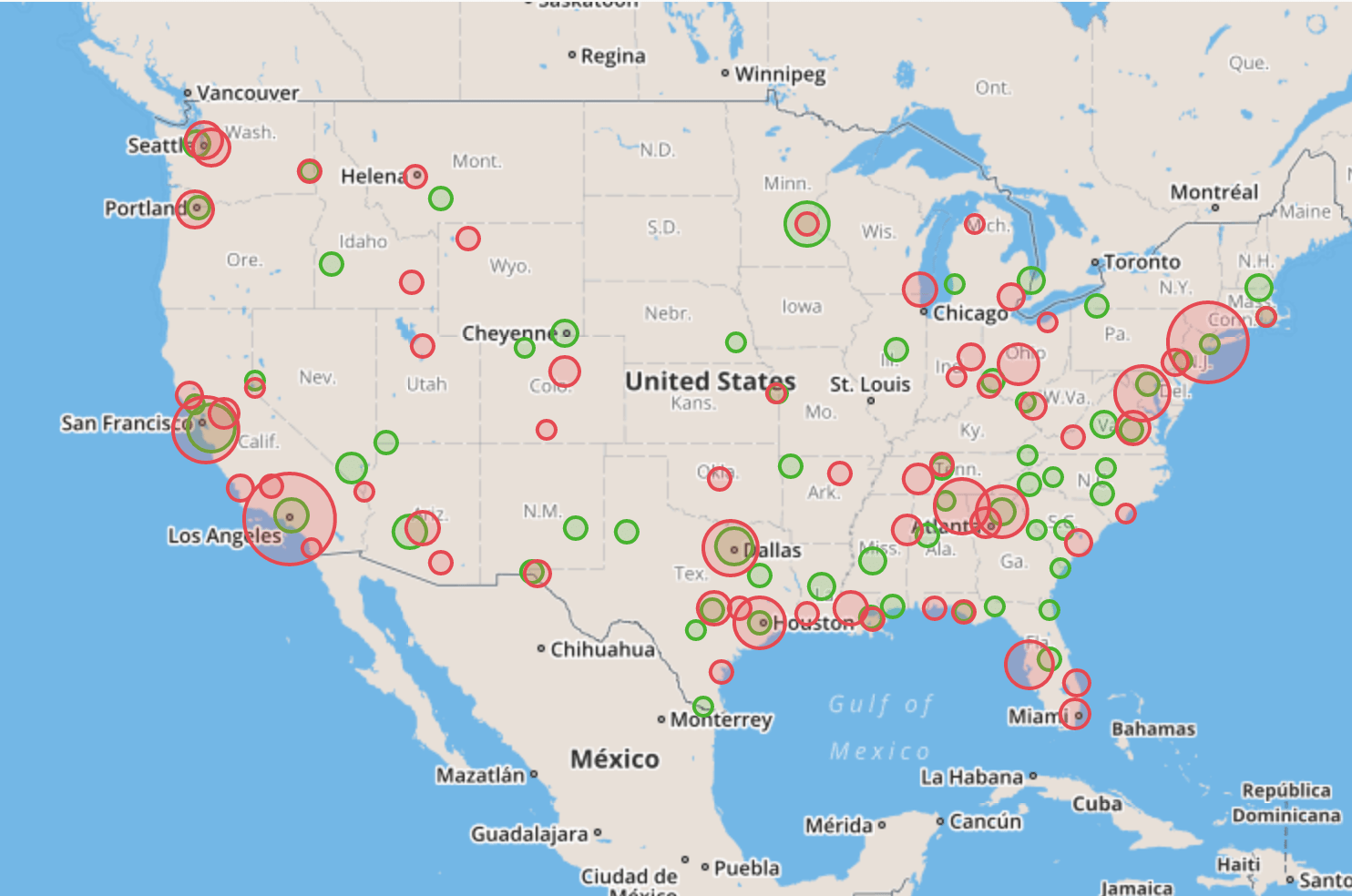 March: Week 3
On March 19th Governor Gavin Newsom Issued Stay at Home Order for state of California.
March: Week 4
On March 26th the United States officially led the world in confirmed cases with over 80,000 known cases and limited testing availability.
April: Week 1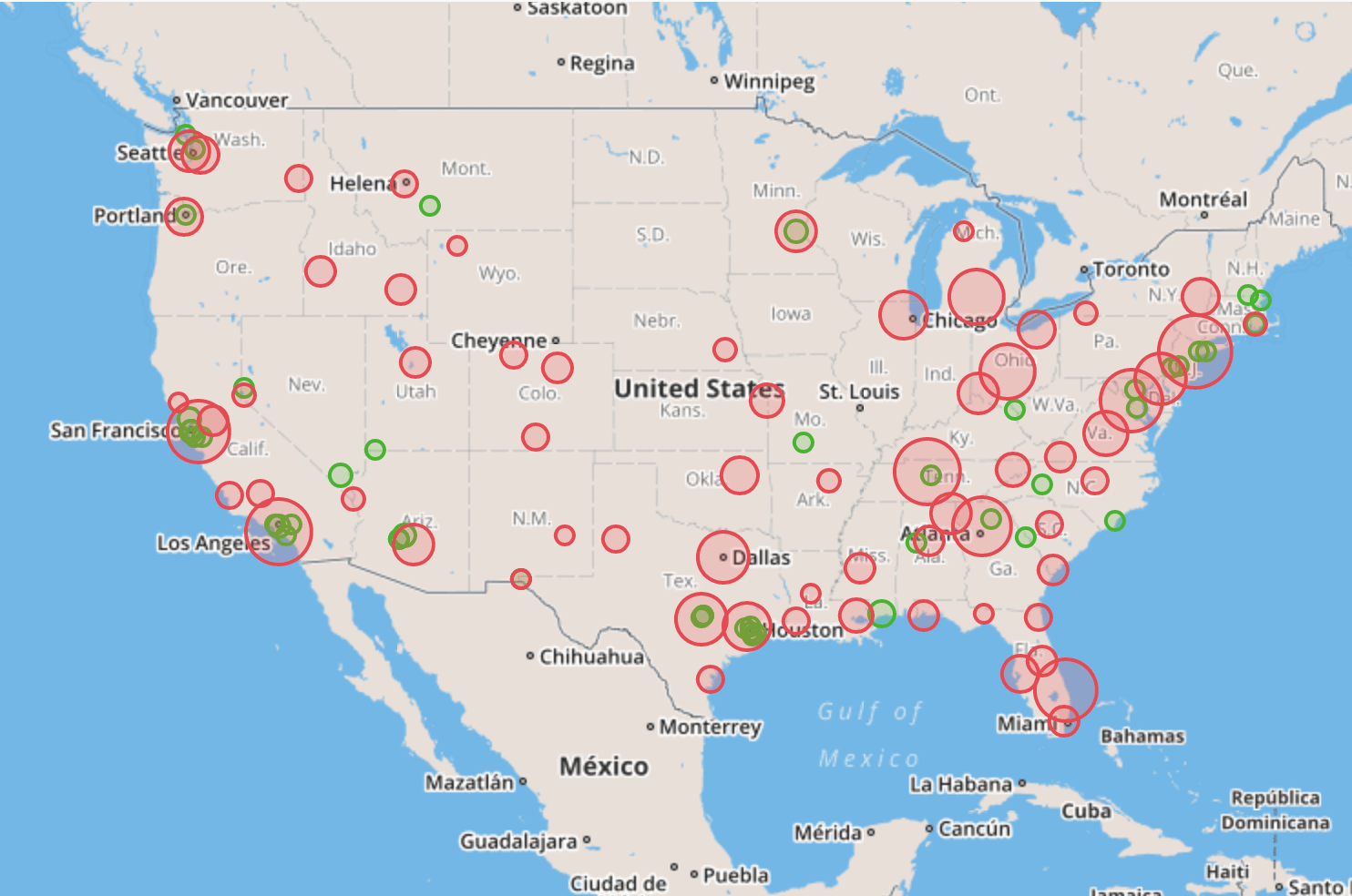 April: Week 2
April: Week 3
In Florida, appointment cancellation rates increased steadily until the third week of April; statewide confirmed cases peaked on April 22nd.
April: Week 4
May: Week 1
May: Week 2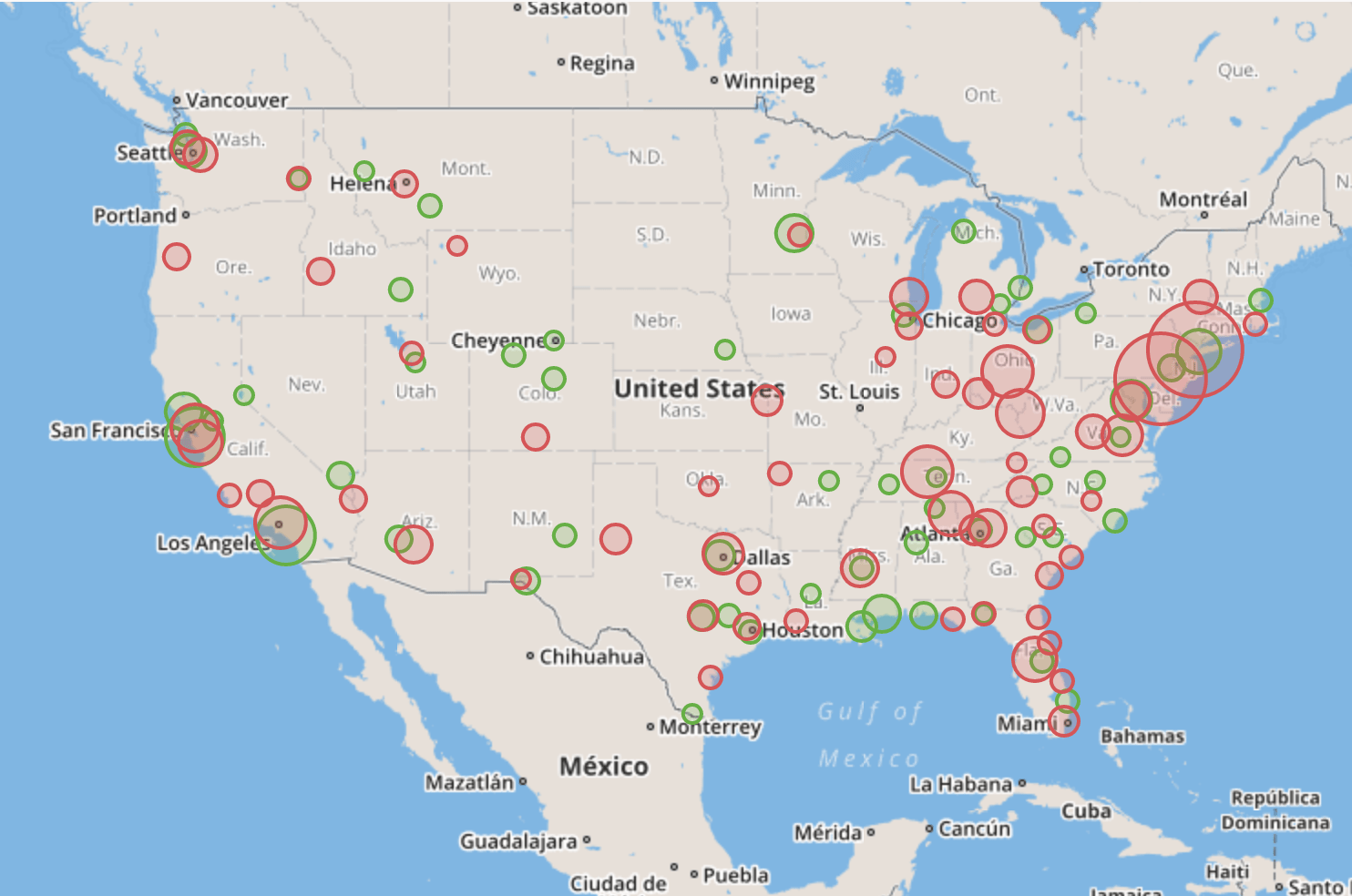 The map series quickly evolves into a noisy illustration of increasing cancellation rates by the third week of March, illustrating the path and destruction of the virus. The most substantial relative increases are concentrated in virus hot spots, including California and New York — the same areas with the highest number of confirmed cases on March 24th.
Averaged across all clinic locations, appointment cancellation rates that typically hover around 25% were, at the height of impact, doubled. Simultaneously, decreases in appointment confirmation rates have been inversely proportional to the spikes in appointment cancellation rates.
The steepest increase in appointment cancellation rates occurred during two subsequent weeks beginning March 15th, the same day that the CDC issued guidance recommending against any gathering of 50 or more people for an eight-week period. Over the course of the two-week period, for every 1 appointment confirmed, 2.5 were cancelled. For the first time in Luma Health's five-year dataset, the confirmation rate and cancellation rates hit an inflection point, with cancellation rates far outnumbering confirmations. Appointment cancellation rates continued to increase week over week as the public narrative surrounding the virus took shape and intensified, largely influenced by local, state, and federal communications.
After peaking on March 22, appointment cancellation rates have slowly begun to stabilize, but still remain significantly above average. Confirmation rates have stabilized to a lesser extent as clinics have reduced appointment volumes and uncertainty leaves patients reasonably commitment-averse.
Filling the Healthcare Access Gap
In the wake of unparalleled appointment cancellation rates, video conferencing technology has offered an alternative and promising avenue for patients to regain access to healthcare. Clinics that have embraced telehealth solutions have been able to recover appointment volume more efficiently while broadening care options for patients with chronic conditions, preventative care, and emergency screening. Although the virus is far from under control, it is encouraging to see healthcare systems quickly adopting telehealth solutions to bridge the healthcare access gap spawned by the pandemic.
The effect of COVID-19 on access to care is glaring when considering the immediate impact on appointment cancellation rates. As clinics reposition with alternative models of care, such as telehealth solutions, it's increasingly clear that the pandemic has fundamentally changed the fabric of our healthcare system. To follow these trends and more, check out our latest data report based on findings from more than 5.7 million patient interactions on the Luma Health Total Patient Engagement Platform™: Covid-19 Ushers in Patient-First Care Model.