By Elizabeth Lee, Business Analyst for Luma Health's Data Science Team
Previously, we introduced a five-stage framework for healthcare's management of the COVID-19 pandemic. As promised, we're back with another blog post to expand on that topic and offer a deeper look at the five stages health systems and providers across the country are navigating:
Stage 1 – Readying for Disruption
Stage 2 – Operational Disruption
Stage 3 – Peak Infection & Crisis Management
Stage 4 – De-Escalation of Crisis Conditions
Stage 5 – The New Normal
COVID-19 infection rates vary greatly across different states and regions of the U.S., and communities will hit their peak number of infections at different times. Even after communities hit their peak, healthcare faces a long road ahead. Health systems and clinics should have a plan for responding to each of the different stages of the crisis — including the post-peak stages.
To assist healthcare teams, we've created an infographic that illustrates response stages for ambulatory care and highlights what to expect during each stage. You can download the infographic here. Or, you can view it at the end of this blog post.
Here is more in-depth information on each of the five stages:
Healthcare's Five-Stage Framework for Managing the COVID-19 Pandemic
Stage 1 — Readying for Disruption
For health systems and clinics, Stage 1 is a time to prepare for possible crisis management. Most healthcare clinics are operating as normal, but are starting to see the first effects of the pandemic. While there is awareness of potential virus-related risks, the response from government leaders during this stage is limited and citizens continue on with their daily lives. Now is the time to make precautionary adjustments, communicate with patients, and work to assess risks and identify infections. Here are the main challenges we've identified for healthcare clinics and health systems during Stage 1:


Proactive Patient Outreach: The general public is beginning to become aware of the potential health crisis during Stage 1. You can send mass messages to better educate patients about potential health risks and best practices for staying healthy. Conducting outreach centered around hand washing and social distancing measures are effective ways to educate your patient population about actions that will protect them and their families. Targeted outreach messages can also be sent to high-risk populations to let them know they may be more susceptible to complications related to COVID-19 because of their age or pre-existing conditions. Staff also can broadcast operational changes such as updated clinic hours or services via mass messages.

Rapid two-way communication: Patients may have more questions than normal during this stage. Being able to quickly and easily communicate with individual patients is necessary. Rather than communicating through a patient portal that requires patients to log in to view messages, healthcare providers and staff can leverage HIPAA-compliant two-way chat to conveniently communicate with individual patients.

Exposure risk assessment: Health systems and clinics need to proactively adopt new screening policies in order to assess virus-specific risks. By leveraging automated reminder messages, healthcare teams can remind patients of upcoming appointments and share links to screening surveys. Asking patients to complete these surveys ahead of their scheduled appointments allows teams to assess risks and respond appropriately. Watch this short video to see how you can use screening surveys to conduct patient risk assessments:

Stage 2 — Operational Disruption
Stage 2 involves shifts in both government response and patient behavior. Citizens are abiding by statewide stay at home measures and most non-critical healthcare appointments are being deferred. Maintaining care and patient screening are essential during Stage 2. Top priorities are:
Telehealth: If you are not already using telehealth extensively, you may need to quickly expand your telehealth offerings to continue providing care to patients who are unable to attend in-person appointments. By adopting or increasing telehealth, you can continue to provide routine and chronic care while, minimizing the risk of exposure to the virus for both patients and providers.
Ongoing Communication: Situations can change quickly during Stage 2, and rapid communication is even more critical at this point than during Stage 1. Communications that promote telehealth and prevent gaps in care are increasingly important, along with any updates about changes to your office hours and the accessibility of care. Additionally, you can send cadences of content to support patients as they work to manage a chronic condition or stay healthy throughout a pregnancy. The idea is to use telehealth and ongoing communication in tandem.
Pre-Visit Screening and Patient Risk Stratification: Increased community virus spread in Stage 2 creates a more urgent need for screenings prior to in-person appointments. Sending patients who have previously scheduled appointments screening surveys will allow you to determine if patients should be seen via a virtual telehealth appointment or an in-person visit, identify patients that need to be scheduled for testing and direct them to the appropriate testing location, and assist with public health efforts for testing and disease tracking. As you stratify patients by risk, you can initiate communication campaigns to check in with patients who have a higher risk of contracting COVID-19.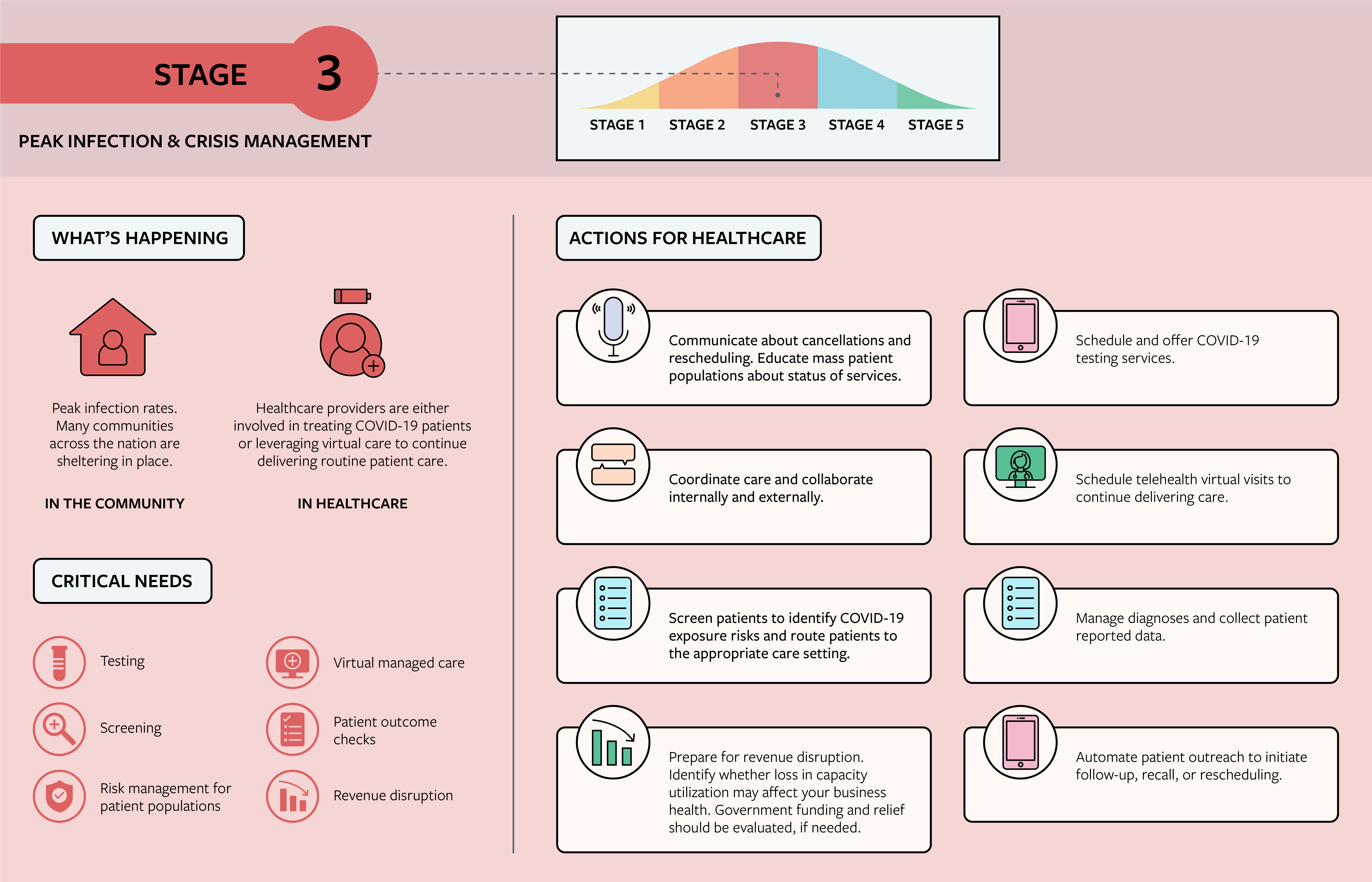 Stage 3 — Peak Infection & Crisis Management
Stage 3 states are seeing peak infection rates. Health systems and clinics that treat COVID-19 patients may see their resources depleted and healthcare workers exhausted. Those that do not provide critical care may be temporarily closed or operating virtually. One important thing to note is that stage 3 states will look very different across the country as peak rates of infection are much higher in some areas versus others. For this reason, it may be possible to see states move from stage 1 to 3, with some states never experiencing the need for statewide measures. These states' peak infection rates may remain manageable without seeing any major operational disruptions. In Stage 3, some of the most pressing issues include:
Testing, Screening, and Risk Management for Patient Populations: The testing and population health management needs from previous stages continue to be top priorities in Stage 3.
Virtual Managed Care and Patient Outcome Checks: Patients will continue to need the ability to access various types of care during the COVID-19 pandemic. Although in-person appointments and care may not always be an option, you can support patients through a combination of virtually managed care and patient check-ins. For example, you can ask patients to self-report health outcomes from home and monitor for issues. By doing this, you can identify problems and intervene or schedule virtual telehealth visits as needed.
Revenue Disruption: In this stage, care disruptions from Stages 1-3 lead to revenue disruptions and financial challenges for health systems and clinics. This is another reason why capitalizing on opportunities to deliver care via telehealth is important. If your clinic should need to close for a period of time during Stage 3, you will want to begin planning your patient recall strategy to ensure a smooth transition when you reopen.
Stage 4 — De-Escalation of Crisis Conditions
In the fourth stage, infection rates begin to fall and some of the community-wide restrictions that were previously put in place may be lifted. The virus is still present; however, healthcare is able to cautiously resume in-office care for some procedures. More people may be working outside of their homes and a broader definition of essential services is applied. In this stage, previously strained healthcare providers are no longer completely overwhelmed. COVID-19 is still a threat, but it has subsided to a point where resources are available to meet demands. This stage is pivotal because it can either be the first step toward recovery, or a path that leads back to a repeat of an earlier stage. During Stage 4, the main needs to address are:


Outreach for High-Priority Patient Recall and Scheduling: As you begin shifting from crisis management toward recovery, it is important to actively prioritize and schedule appointments.It is especially important to ensure all available appointment times are utilized and empty slots from cancellations and no shows are filled as efficiently as possible.This requires communication to let patients know your facility is open, that you are working to meet the needs of patients with the most urgent needs, and that you are scheduling some in-office appointments along with telehealth virtual visits.

Care via Telehealth Virtual Visits: Continued utilization of telehealth virtual visits is essential in Stage 4 and allows healthcare teams to deliver care to patients with a variety of needs. At this point, you should plan for telehealth to be a permanent part of care delivery.

Ongoing Screening: Screening will evolve and continue to be important throughout Stage 4. Ongoing screening is needed to respond to risks from patients traveling to and from other regions where COVID-19 is not contained. Also, patients who tested positive for COVID-19 and are now clear of infection may resume scheduled in-office appointments.

Updated In-Office Procedures: As a result of social distancing guidelines, your clinic may adopt new long-term procedures for office visits. This might include having patients wait in their cars rather than in a reception area. Or, it could mean scheduling longer gaps between patients' appointments or alternating between in-office and telehealth appointments to prevent facilities from becoming crowded. As updated procedures are implemented, you will need to communicate instructions to patients.

Stage 5 — The New Normal
Stage five is the obvious goal for healthcare. Communities will return to normal life during stage five — although, there will be lasting healthcare changes and a "new normal" post-COVID19. During stage five, areas of focus for healthcare primarily involve:


Revenue Recovery: Health systems and clinics need to ensure all available appointments are utilized, telehealth is used whenever possible for care and patient retention, and referred patients are scheduled as soon as possible. You can resume all types of care that you previously offered as long as you are conscious of risks and monitor for them.

Rescheduling All Backlogged Appointments: Scheduling appointments for a large backlog of patients requiring essential and nonessential care needs to happen as efficiently as possible. For this, you will want to lean heavily on automation.

Population Health Management: With population health more of a priority than ever before, your healthcare organization may increase patient engagement efforts and permanently adopt new engagement strategies.

Meeting New — More Modern — Patient Expectations: Patients' exposure to digital healthcare solutions used throughout the pandemic will change expectations and be another reason to continue offering modern solutions such as telehealth virtual visits.

One important note about these stages is that timing isn't the only variable. The duration of these five stages will be different for healthcare providers across the U.S. Having an understanding of the different stages and how your clinic may bounce between them, possibly repeat them, and eventually overcome them, will help you identify critical actions to take during each stage.
Luma Health is constantly monitoring the COVID-19 pandemic across all 50 states. You can find our most updated analysis for each state here.
In the coming weeks and months, we will continue sharing information and resources to help you navigate COVID-19 crisis management and recovery.
Stay tuned.
Until then, please stay safe, stay informed, and stay inside as much as possible.
Elizabeth Lee is a business analyst on Luma Health's Data Science team.