Four Things to Know About Men's Health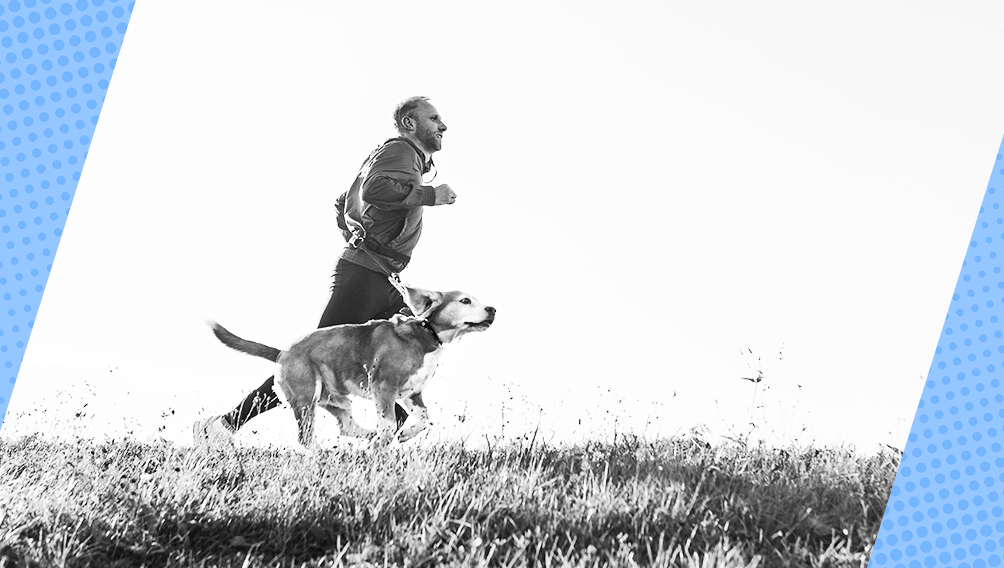 Although we can't be together to observe Men's Health Month, the whole Luma Health squad is wearing blue from our respective homes in honor of men's health. Wear BLUE day, celebrated on the Friday of Men's Health Week (June 19), is part of an awareness and health education campaign to show support for men's health.
Many people may wonder whether men's health merits its own month of observance, and whether there are unique barriers to health that men tend to face more than women. It's a valid question —after all, we know that women notoriously face serious health disparities. But that certainly doesn't mean men don't face their own challenges. This infographic, courtesy of Research Medics, provides an overview of the health problems men commonly encounter.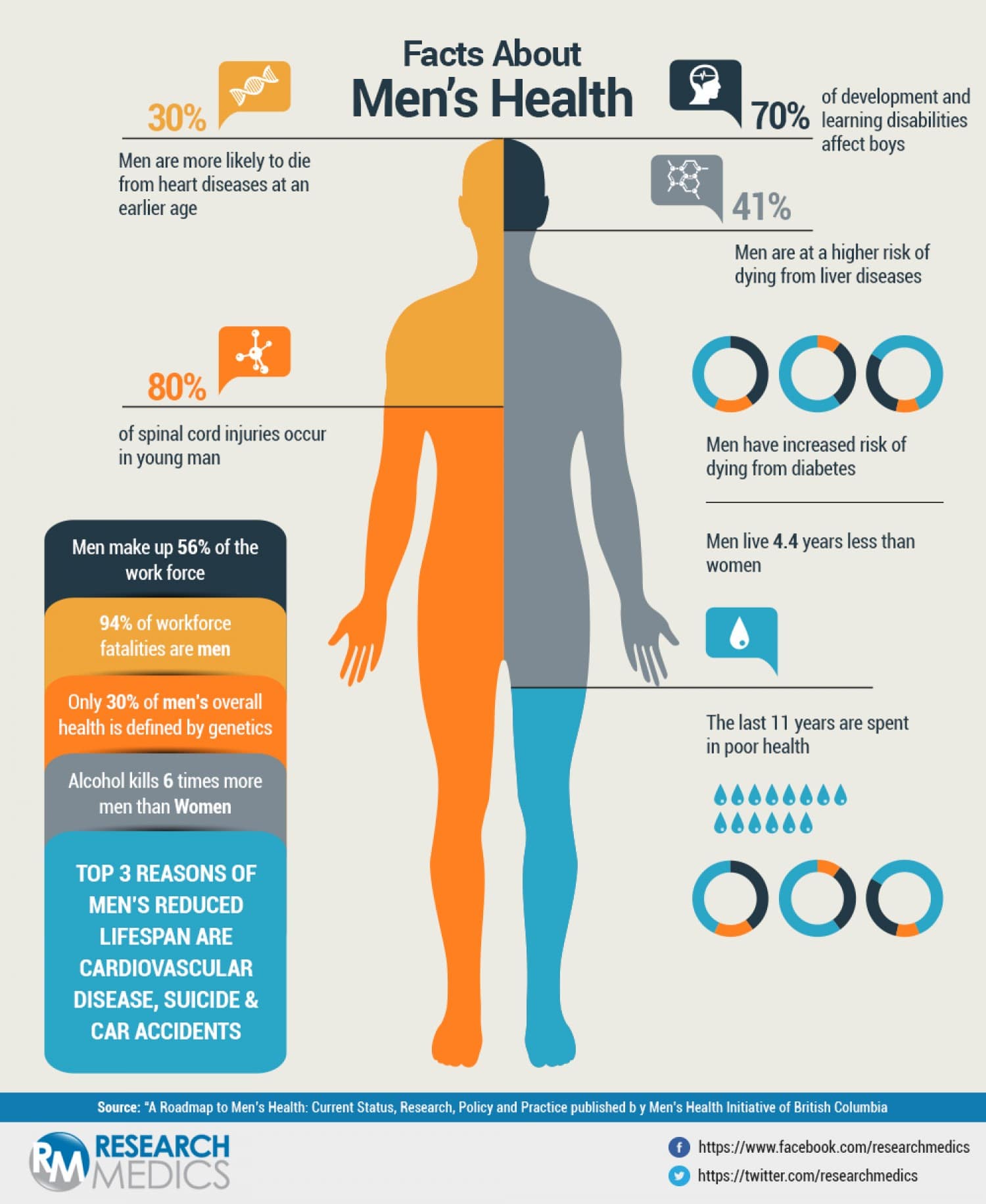 Men frequently experience health difficulties that go unnoticed or neglected—hence the importance of Men's Health Month. During this month, care providers can take the opportunity to encourage men to seek necessary medical treatment and advice. Here are four noteworthy facts to know during Men's Health Month.
1. Men Are Less Likely to Seek Healthcare Than Women
There's a culture- and media-driven expectation for men to be strong and not show signs of weakness. This mindset can subconsciously train men to believe that going to the doctor exhibits weakness, discouraging them from consulting their providers and hindering the likelihood that they'll seek preventive care. A survey conducted by The Cleveland Clinic confirmed this trend, finding that 40 percent of men go to the doctor only when they have a serious health issue, and never go for routine checkups. This number is far lower than women's frequency of doctor visits. Men also tend to exhibit a fear of diagnosis: about 21% of men admit to avoiding the doctor because they're too nervous to find out what might be wrong. The pressure to conceal weaknesses can be so strong that it even leads some men into a state of denial — these are concerning figures that we must work together to prevent. As clinics reopen, there is likely to be a huge backlog of men in need of routine, preventive, and chronic care appointments. It's important to employ sophisticated engagement systems that can automate outreach to these patients, allow them to self-schedule appointments, and get men back into clinics for the care they need — all without creating a burden on staff. Let's work together to turn this trend around and create a cultural shift where men feel at ease getting the care they need.
2. Prostate Cancer Affects 1 in 9 Men
According to the American Cancer Society, there are about 175,000 new cases of prostate cancer diagnosed each year, and prostate cancer is the most common cancer among American men. Given these statistics, it's important to ensure that at-risk men are being screened for prostate cancer—especially considering men's known reluctance to seek preventive care. On the bright side, however, prostate cancer typically grows slowly, so many cases don't require immediate treatment and aren't life-threatening. Still, the earlier prostate cancer is caught, the easier it can be contained. Some more good news: there are plenty of opportunities throughout the year to show your support for prostate health and help to raise money for organizations working to combat prostate cancer. September is designated as National Prostate Health Month, and later in the year, there's Movember. Movember is a campaign that challenges men to grow mustaches to raise awareness and funds for prostate or testicular cancer research. The Movember Foundation's ultimate goal is to "change the face of men's health." (Get it?)
3. Mental Health is One of the Most Stigmatized Issues Affecting Men
Many men—perhaps more than we think—struggle with their mental health and the stigma that surrounds it. The American Psychological Association reports that 30.6% of men have suffered from depression in their lifetime, and the suicide rate for men is much higher than it is for women. Again, men's hesitation to seek out care may be worsening this issue. Men are notorious for not talking about their feelings, and that's not just a stereotype, it's an actual trend psychologists have documented. In the eyes of many men, discussing emotions is just another form of vulnerability that can lead to discomfort. It can be scary for many men to begin sharing their feelings, but the payoff is worth it: men who express their feelings verbally are less likely to express them violently. These feelings may be heightened by the social isolation that has become necessary in the age of COVID-19. Many people are feeling lonely in quarantine or are overwhelmed by current events. It's important that they feel comfortable seeking help and being transparent about their feelings. For providers, establishing a strong patient-provider relationship and being accessible to all patients can boost the likelihood that they will seek the care they need. We suggest implementing a patient engagement solution that enables your patients to reach out 24/7 via a HIPAA-compliant secure chat environment. This will help patients get the peace of mind that their provider is there for them and will support them throughout their care journey, whatever that journey may look like. You can make a difference by simply talking to the men in your life. Encourage them to talk about their day, to tell you about their emotions, and to be open with you. They may be resistant at first, but persistence is powerful, and you'll be doing your part to improve men's mental health.
4. The Average Man Should be Making Better Lifestyle Choices to Protect His Health
The stats back it up: men drink more heavily and smoke more frequently than women, habits which can have severe health implications. Drugs and alcohol can cause issues ranging from lung and heart disease to liver problems to preventable accidents. Plus, men tend to make less healthy choices in the kitchen. Women have been found to eat far more fruits and vegetables than men, while men consume more meat and dairy. It's likely that social norms are influencing this trend, too. Cultural expectations can play a subliminal role in men's dietary choices and can have consequences over time. Partly due to health behaviors, men have a shorter life expectancy than women. This gap has only widened over time, and men are currently expected to live 5 fewer years than women, on average. This disparity in lifespan should speak for itself — men simply aren't as healthy as they could be, and it's time to fix that.
WEARING BLUE MATTERS
There's no doubt that men's health issues deserve attention. And men must be encouraged to continue seeking health care. The responsibility lies upon all of us to keep this necessary conversation going, even once June is over—because men's health is always worthy of discussion. Let's break down stigma, embolden men to seek care, and continue to ensure that no patient falls through the cracks.
Want to learn more about how to support Men's Health Month? Get event ideas, promotional materials, and more facts at www.menshealthmonth.org. We're happy to continue this conversation and share more strategies for improving men's health outcomes through patient engagement technology — you can always contact us.