Five Highlights from TMCx08 Demo Day — Innovation in Digital Health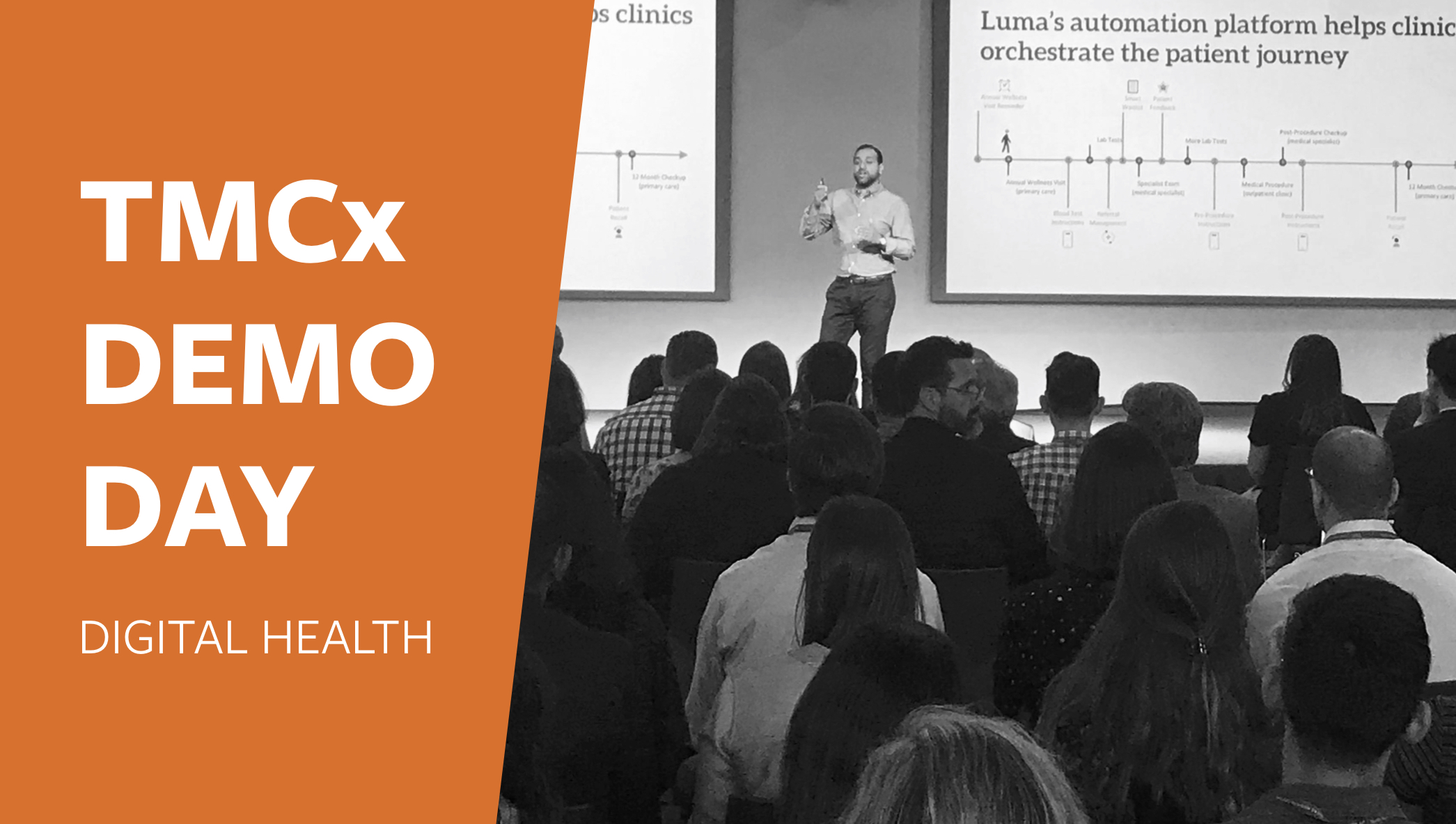 Last week the Luma Health squad got the opportunity to present at the Texas Medical Center Innovation Institute's 2019 Demo Day. Nineteen digital health startups from all over the world showcased the work they're doing to drive innovation in healthcare.

Here are a few of the highlights from Demo Day–areas that companies are making leaps and bounds in digital health disruption.

#1: Clinical decision support systems like Virti, GiantLeap, Iterative Scopes, Optellum, and Oncora Medical are facilitating increased quality of care and enhanced health outcomes. They're helping physicians, staff, and patients avoid errors and adverse events. They're also driving increased efficiencies and boosting provider and patient satisfaction.
Oncora Medical, for example, is utilizing real-world data to improve the quality of care and health outcomes for cancer patients. Through better collection of cancer patient history and intuitive application of this data, physicians, scientists, and health institutions can make smarter decisions related to cancer treatment.

#2: Hospitals are prioritizing efficiency by investing in communication technology, process automation tools, and asset tracking software. Companies like RDNote, Carta Healthcare, PreopMD, and Roundtrip are solving various hospital efficiency problems throughout the nation.
Roundtrip is working with various health systems to ensure that transportation is not a barrier to care for anyone. They have created a simple and easy-to-use digital marketplace to coordinate patient transportation.

#3: Behavioral and mental health is often overlooked in the healthcare industry. But more and more mental health startups like Meru Health, Cloud9, and Ria Health are prioritizing the 44 million adults that currently live with mental illness.
Meru Health is tailoring its app-based treatment programs on an individual needs basis. With licensed therapists on staff and anonymous peer groups, Meru is providing a complete support network to those suffering from mental health conditions.

#4: Understanding patient experience is the key to increasing patient-centered care. Enabling better patient access to information and empowering patients to take charge of their own health through easy-to-use technology is at the forefront of improving the patient experience. We at Luma Health are super passionate about this. Other digital health companies like BetterConsult and Veta Health are also accomplishing this in their own unique ways.
#5: Remote monitoring through connected devices has shown to lower healthcare costs by reducing hospital admissions, lengths of stay, and follow-up office visits. Axem Neurotechnology, Sani Nudge, DosentRx, and Headsafe are just a few of the amazing connected device startups aiming to disrupt healthcare.
Sani Nudge has created a wireless hygiene monitor to help hospitals improve hygiene compliance and processes. Half of infections are avoidable with better hand hygiene. In fact, every 4 minutes a patient dies from a hospital-acquired infection. Sani Nudge has clearly identified a problem and developed a connected sensor solution that can detect, record, interact, and share to promote better hand hygiene.
We were proud to present our patient engagement solution along with these innovative companies! Now the work continues to help improve healthcare for all patients.
For any that missed Demo Day, you can access the recorded livestream here: https://vimeo.com/338258626.