Boost Your Organizational Health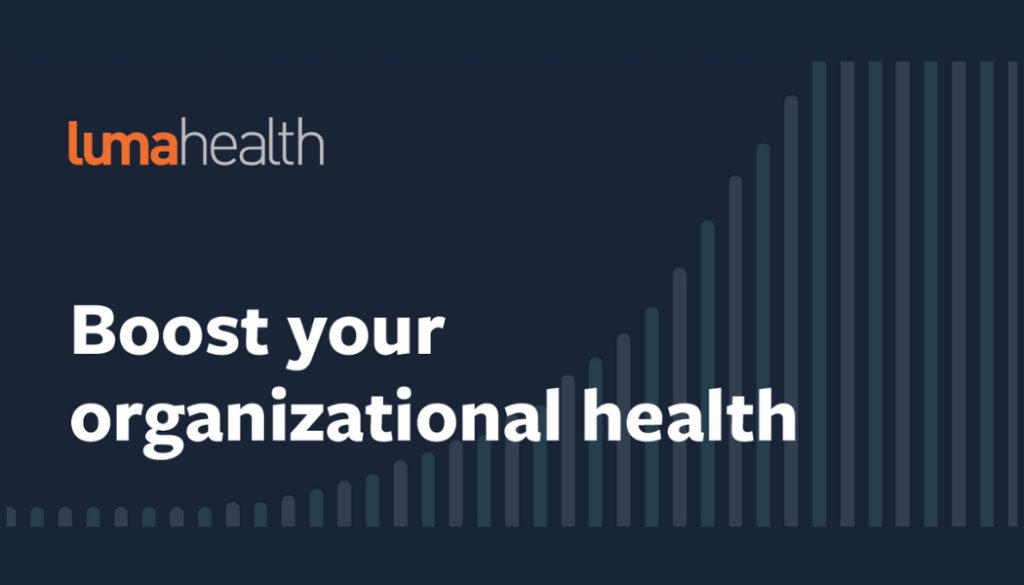 You're committed to helping your patients become healthier—but your power to impact health is only as strong as your organizational health. Staff need time to invest in producing positive patient experiences, clinicians need more time to treat patients and drive better outcomes, and revenue needs to constantly flow into your organization to keep it healthy and thriving.
Improving efficiencies and boosting organizational health is a matter of three key principles: efficient use of staff time, increased revenue, and of course, most importantly, happy and healthy patients. Here's how Luma Health helps healthcare organizations do all three.
1. Save time
Trying to schedule patients and increase appointment attendance can encompass countless tedious tasks from checking calendars to managing waitlists and playing phone tag. Not only does this cause serious headaches, it wastes hours of valuable staff time—staff time that could be reinvested into care coordination, patient experience, and other more valuable tasks. Plus, if the end result is a no-show rate around 20 percent, your organization is losing valuable clinician time as well.
Fortunately, Luma Health helps empower staff to maximize their time at work. Every time Luma Health auto-confirms an appointment or allows a patient to self-schedule online, that adds up to a total of 1,000 hours a year saved. And every time Luma Health sends an appointment reminder, that contributes to better patient attendance and, ultimately, an 11 percent reduction in no-show rates for your organization. One Luma Health Customer cut no-shows in half. Plus, staff are happier—and more productive—focusing on delivering top-notch patient care. Your bottom line will thank you.

2. Drive revenue
To truly boost your organizational health, you have to have a steady stream of revenue coming through your front doors. That is why Luma Health makes it easier for you to attract, schedule, and retain your patients, keeping them coming back for all the right reasons.
By automating outreach to referred and or attributed patients, Luma Health helps better reach your target population. One federally qualified health center reached 3.8 times more attributed patients than other network providers by using Luma Health to deliver personalized and automated messages. Luma Health also drives your happy patients to leave online reviews, so you can better attract new patients in your area. Studies show that boosting your Yelp score by just 1 star rating can yield a 9 percent increase in organizational revenue.
3. Keep patients happy and healthy
Ultimately, it's all about the patient. That is what keeps us all going back to work day after day. When your patients are healthy and happy, so is your organization.
Focusing on performance not only helps you better connect with your patients and earn their loyalty, it drives additional dollars back to your organization and helps you prepare for the value-based market to come. By implementing a MIPS messaging strategy, Luma Health can help you find success on over 60% of MIPS quality measures as well as MSSP, HCAHPS, and other value-based metrics.
Keeping your clinic, practice, hospital, or system healthy is critical to doing what you do best—caring for patients. Luma Health is committed to partnering with organizations like yours to support the work you do. Download our Organizational Health infographic with these handy stats to help you develop your organizational health strategy.