5 Tips for Restoring Patients' Confidence and Scheduling Appointments During COVID-19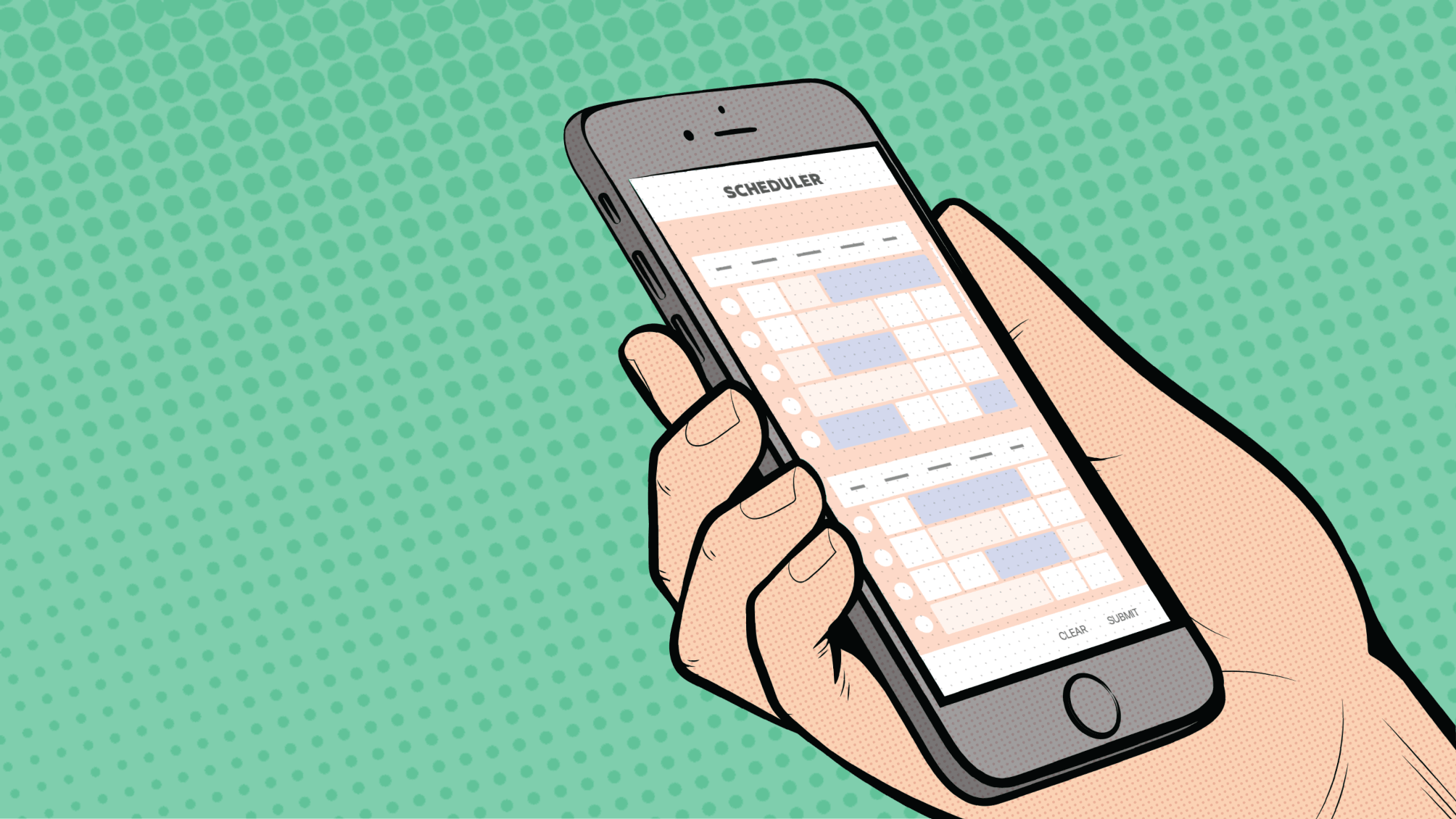 COVID-19 continues to strain healthcare in many different ways. During the first few months of 2020, when it started to become apparent that COVID-19 would significantly impact the U.S. healthcare system, one of the biggest fears was that the demand for care would exceed available resources and capacity.
Now, as we continue to watch the crisis play out, we know that COVID-19's impact varies in different parts of the U.S.
Luma Health analyzed data interactions from our platform and found that across our database of more than 12 million patients, appointment cancellations increased by 108 percent in a single month following the COVID-19 outbreak. In addition to this rise in cancellations that occurred in March, the number of appointments confirmed by patients during that time fell by 43 percent. Details about these and other COVID-related trends are highlighted in this report: COVID-19 Ushers in Patient-First Care Model.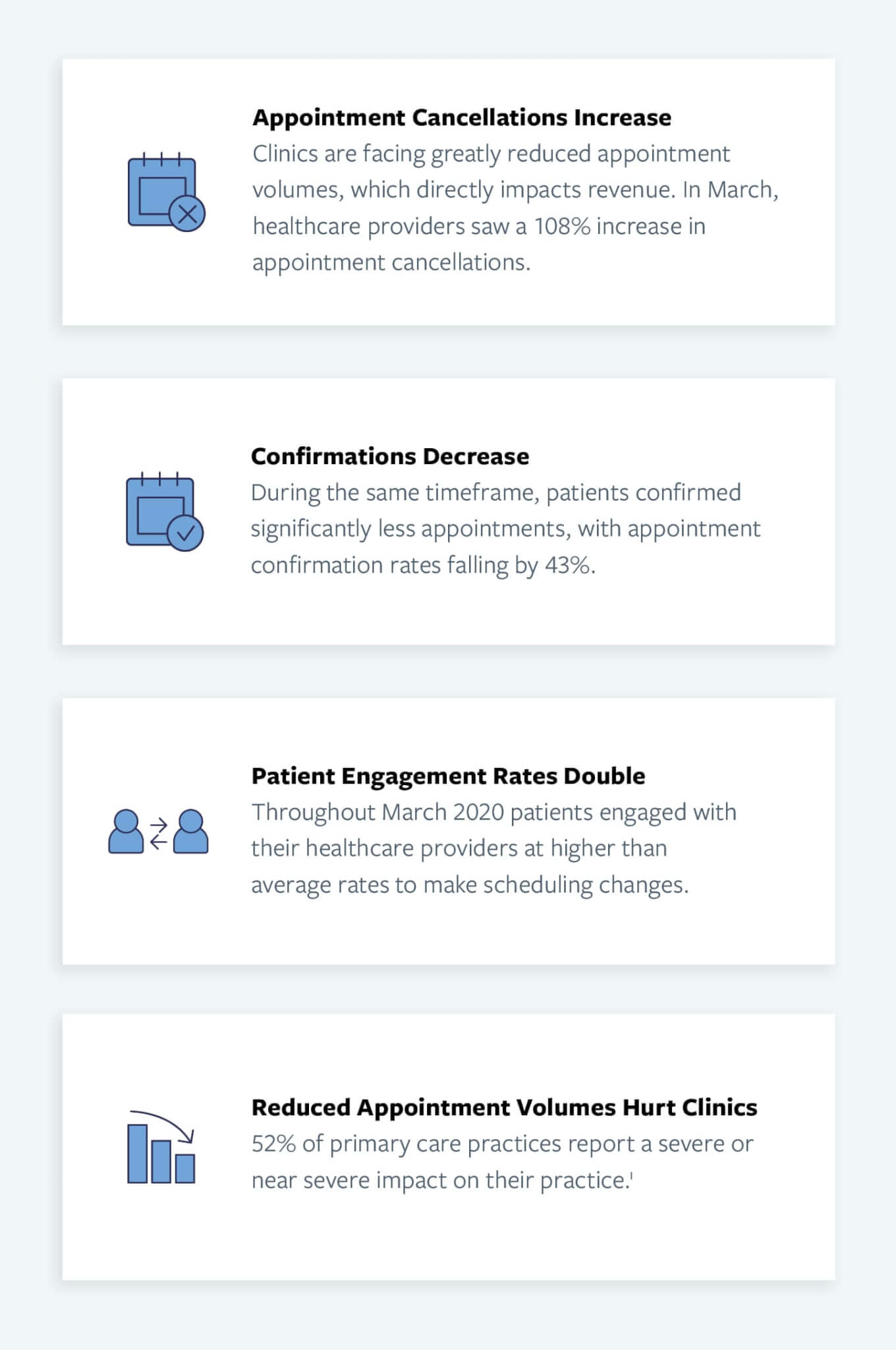 Clinics See a Sharp Decrease in Patient Volume
Unfortunately, there are two obvious side effects that come from all of these cancellations: reduced revenue for clinics and a backlog of patients in need of care. Clinics need smart strategies to deal with these challenges.
Stay-at-home orders, fear, and social distancing all make getting patients back into the clinic a complex and challenging proposition.
As restrictions loosen, it is important for clinics to find ways to minimize COVID-19 exposure threats for patients and staff, restore patients' confidence, and schedule appointments to deliver much-needed care to patients.
Here are five quick tips to help:
1. Broadcast messages to share safety information with patients: Sending mass messages to patients is a simple way to keep them updated about the safety protocols you have in place. It also allows you to share best practices for staying safe and healthy. This is an easy way to show patients you are committed to their safety and you are taking extra precautions to make your facility safe to visit. 2. Implement zero-contact check-in: To help maintain social distancing and minimize contact between patients and your front office staff, you can digitize your check-in process. For example, Luma Health's solution allows patients to complete intake forms electronically, on their own devices. This enables them to wait in their car or outside, if comfortable, rather than sitting alongside other patients in your waiting room when they arrive. 3. Use surveys to screen patients ahead of in-office appointments: Asking patients to complete an automated screening survey is a quick and easy way to identify COVID-19 exposure risks. Upon answering a few brief questions, patients will receive instructions on whether they should show up for their scheduled appointment as planned, switch their appointment to a telehealth virtual visit, or seek alternative care based on their risks.
4. Schedule more virtual appointments: Whether you were previously using telehealth or not, now is a great time to expand your use of virtual appointments. Primary care practices, specialty clinics, and FQHCs are successfully finding new opportunities to utilize telehealth to care for patients remotely. 5. Consider offering curbside care: In some instances, patients may not even need to come inside your clinic for care. A patient that needs their blood pressure checked, for example, may be a candidate for drive-thru healthcare services. Curbside care is another opportunity for you to deliver services patients need — particularly if they have a chronic condition that has gone unchecked because of COVID-related care disruptions — in a way that minimizes exposure risks.
If you'd like to discuss how Luma Health can help your organization implement any of the above healthcare strategies, don't hesitate to contact us to discuss your needs and see a demo. In the meantime, download our report to get up to speed on some of the other ways COVID-19 is impacting healthcare delivery: Covid-19 Ushers in Patient-First Care Model.