Women's Health Week is going on right now, and there's no better time to discuss the reasons why we should be supporting women's health — and even more importantly, strategies for doing so effectively. Health outcomes for women are beginning to lag, and it's imperative that we turn the tide quickly.
Given the ongoing COVID-19 pandemic, the healthcare industry is changing at a rapid rate, and the strategies for achieving optimal outcomes look different than they did just a few months ago. In this tumultuous time for healthcare and for patients, we have four recommendations for navigating changes while also championing women's health. Read on to learn more.
1. Leverage modern outreach to ensure women get the care they need
Preventive screenings, such as mammograms and pap smears, are essential for maintaining women's health. When it comes to these checkups, being proactive is everything — women should be encouraged to schedule appointments for recommended exams. Technology, such as text messaging, makes it easier to communicate the importance of routine preventive screenings and nudge women to schedule them.

Effective patient outreach means sending messages that patients will quickly read and respond to. An email from a healthcare provider can easily get lost among the hundreds of others in our inbox. So, email communication should not be relied on as the main form of outreach. As we've shared before, 90 percent of people read text messages within the first three minutes of receiving them, whereas only 24 percent of emails are opened in the first hour of being received. Text messages are the future of healthcare communication, and the data tells an unmistakable story: Patients want to communicate with their providers via a text-first approach.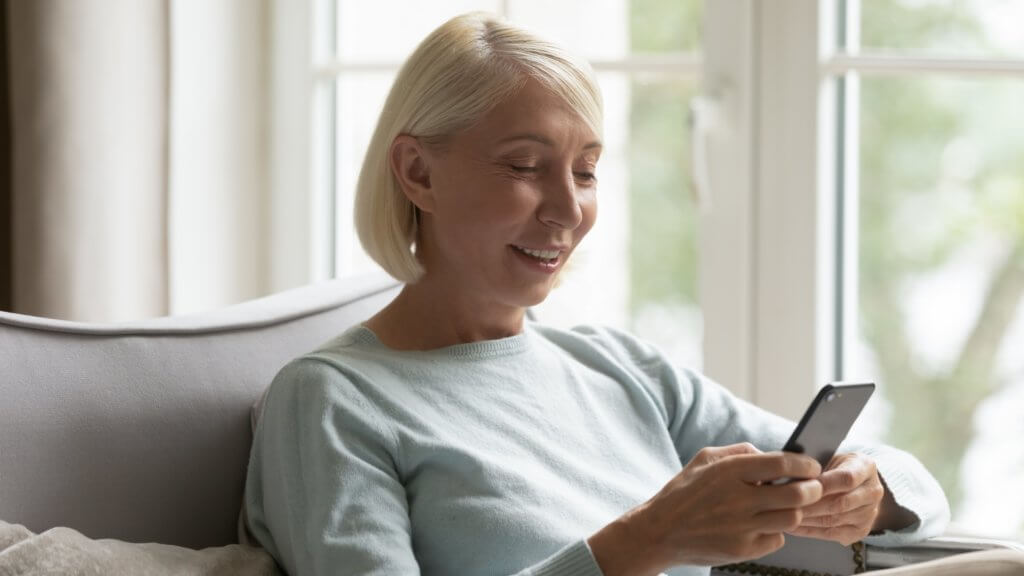 The benefits of text communications are clear. An SMS-based system allows you flexibility to send customizable messages to specific patient segments (e.g. women 30 and over) as well as multilingual texts to ensure that all populations receive relevant, clear communication. Implementing text messaging will help you improve patient outreach, a vital first step to boosting health outcomes and increasing access to care.
2. Empower women with self-scheduling
Patients often have a preferred healthcare provider they are comfortable seeing. To accommodate women's preferences without increasing the burden on administrative staff, we suggest offering a sophisticated online scheduling wizard that gives women control of their own appointments. With an online scheduling system, patients have complete autonomy over the date, time, and provider of their appointments. Convenience is a crucial part of the patient experience. Many women struggle to make their own health a priority because of their packed schedules. Between managing career and family obligations, the average woman feels that in order to accomplish everything she wants to in a day, she needs an extra 82 minutes. Shortening the time it takes to schedule healthcare appointments and eliminating the back and forth of phone tag is one way to improve women's patient experience. To maximize convenience, providers can utilize a text-first approach in conjunction with the other strategies discussed. Sending patients text messages that include a link to schedule online appointments makes the scheduling process far easier, and it decreases the likelihood of care gaps. These scheduling innovations make it easier for women to fit the care they need into their busy lives.
3. Aim to build positive patient-provider relationships
Every woman should feel confident discussing sensitive or personal topics with her provider. Unfortunately, this isn't always the case. Many women report their provider has downplayed medical issues. This type of negative interaction, along with others, can cause women to be more hesitant about going to physicians with problems. Therefore, it is important for providers to be intentional in their efforts to build strong patient-provider relationships.
One great way to build a foundation of trust is to be as accessible as possible. Providers can achieve this via HIPAA-compliant secure chat and two-way text messaging. If patients can reach their provider through chat or text message — even when they can't have an in-person visit — it helps reinforce the providers commitment to providing exceptional care. Similarly, sending health education content via text message can help to establish trust between patients and their providers. For example, providers can leverage broadcast messages as a way to share updated information about COVID-19. Texting patients en masse with best practices for preventing the virus' spread, as well as steps to take if patients suspect that they have become infected is highly effective. This same strategy can work to share other information on any number of women's health topics.
4. Boost access to women's health services with telehealth
Many women in America today still aren't receiving the reproductive care they need, largely because the United States is facing a shortage of physicians — one that will grow to 122,000 by 2032. For patients who live in rural areas with a shortage of healthcare providers, telemedicine can remove geographic barriers by allowing women to receive reproductive care from providers across the country.
Also, for pregnant women who are considered "high risk" and need to be placed on bed rest, it may be dangerous to travel to healthcare clinics for checkups. Telehealth can be useful in this situation to keep patients and providers in contact. Virtual at-home visits can be used to help women learn how to track their blood pressure and fetal heart rate. This virtual healthcare makes it easier to monitor patients' health and can be far more affordable than traditional prenatal care visits.  With the COVID-19 outbreak, telehealth is becoming more widely used. Our prediction is that telehealth is here to stay. In fact, our data scientists have found that COVID-19 is accelerating the adoption of new, innovative technologies for delivering patient care. We encourage all healthcare providers to stay on top of these emerging trends. 
We should all be supporting women in their healthcare journeys. Not just this week, but every week of the year. At Luma Health, we're equipped and ready to help you boost health outcomes for women and for every patient. You can request a free demo here to learn more about our platform.