Due to the COVID-19 outbreak, healthcare systems and clinics across the country are rapidly working to either implement telehealth for the first time or expand and improve their current telehealth offerings. Understandably, the sudden push for telehealth is driving questions about how to best implement a solution and easily make virtual care available to patients during the coronavirus pandemic.
At Luma Health, we are making telehealth easily accessible and functional for every healthcare organization. Here is a look at three telehealth challenges we're solving:
1. Workflow Challenges: We're making it easier to integrate telehealth into existing scheduling workflows.
When designing our telehealth offering, we took an approach that is starkly different from other telehealth solutions. We streamlined our scheduling to eliminate the need for staff to schedule telehealth visits in two separate scheduling systems.

Other telehealth providers offer excellent standalone solutions or patient experiences, but many require juggling two scheduling systems. As a result, staff must manually take actions to sync the schedules in the telehealth solution and the practice management solution or electronic medical record. We designed our workflow to seamlessly integrate into each customers' existing scheduling flow. This allows healthcare teams to easily scale up and provide optimal patient experiences.

Prior to implementing telehealth visits, clinics leveraged the scheduling capabilities of their practice management solution. Then, when an appointment gets scheduled, Luma Health's solution triggers downstream workflows like patient reminders. This is the source of scheduling truth when an appointment gets cancelled to allow other patients to take the slot.

Using a standalone telehealth solution that doesn't integrate with existing scheduling technology requires manual action to update the telehealth appointment on two different scheduling systems. It also requires staff to share access to the virtual exam room. When scheduling a telehealth visit, some solutions provide a link to access the virtual exam room, but it requires extra steps and manual effort. Conversely, our telehealth solution allows staff to schedule telehealth visits in their EMR — just like any other appointment — without having to juggle multiple schedules or create custom messages for those visits. Our platform takes care of all of that.


Takeaway: A telehealth solution with integrated workflows reduces time staff spends manually juggling multiple scheduling systems.
2. Vendor Compatibility Issues: Vendor agnostic telehealth solutions win every time.
Our offering is telehealth vendor agnostic. That is, we can optimize scheduling workflows for healthcare teams that already have a telehealth vendor such as Zoom, Microsoft Teams, or WebEx. Alternatively, you can leverage the video capabilities built into our platform.

Here's what the process looks like when using an external telehealth vendor such as Zoom. (Note: This applies to any telehealth vendor. If you don't have a vendor in place you can leverage Luma Health's video capabilities.)


Once Luma Health Telehealth integrates with your EMR, it reads the schedule and makes updates as needed. You can designate a particular appointment type from your schedule as a "telehealth appointment," within Luma Health, our platform will recognize all scheduled appointments of that type as a telehealth visit and automatically trigger the remaining workflow.

You can choose to configure a static link for all patients or have a unique Zoom room that is exclusive to each patient. The Zoom link is automatically weaved into the normal messaging cadence to the patient, so no additional action is needed. For example, two days prior to an appointment, a patient may receive an appointment reminder via SMS with a prompt to confirm or cancel the appointment.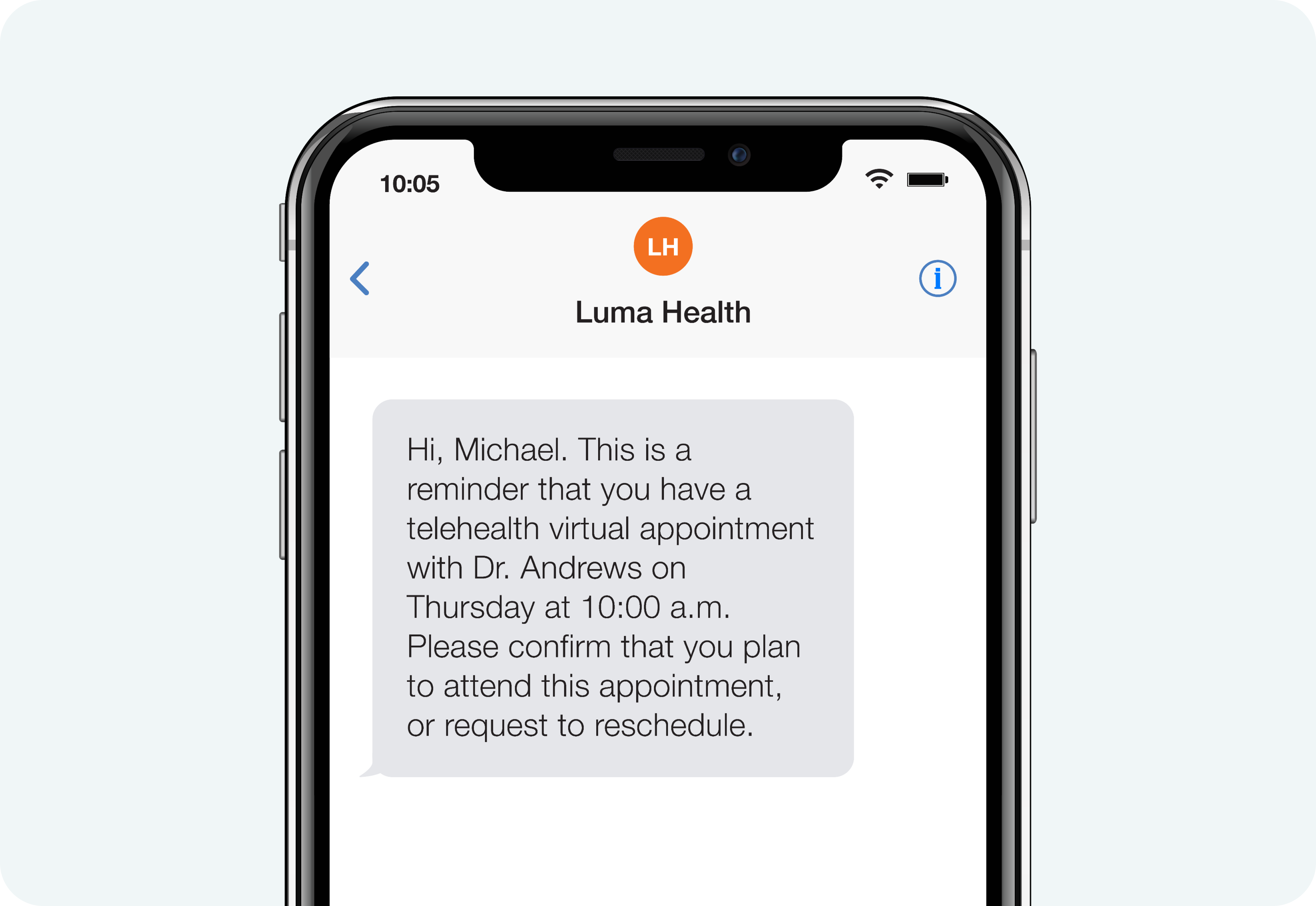 When the appointment is confirmed, a follow-up message is sent to remind the patient that the appointment is virtual and to be near a device with Zoom installed at the time of the appointment. This message also prompts the patient to test his Zoom connection prior to the appointment and gives him an opportunity to reach out if he has any issues.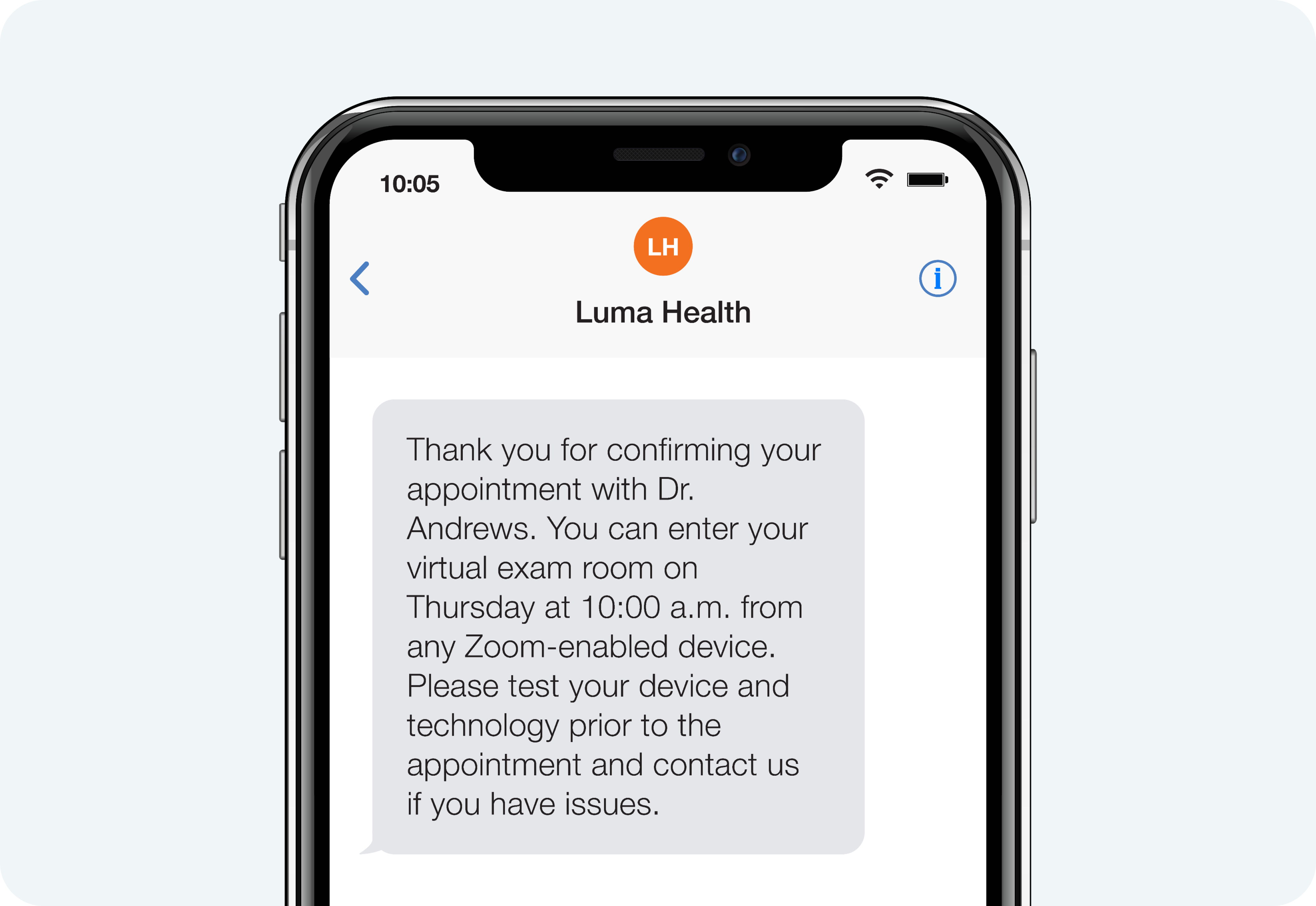 Thirty minutes prior to the appointment, the patient receives another message — this time with the link — reminding him to be near a device with Zoom access. Patients can independently access Zoom rooms, removing the need for extra manual work from staff, and allowing teams to leverage their telehealth vendor of choice.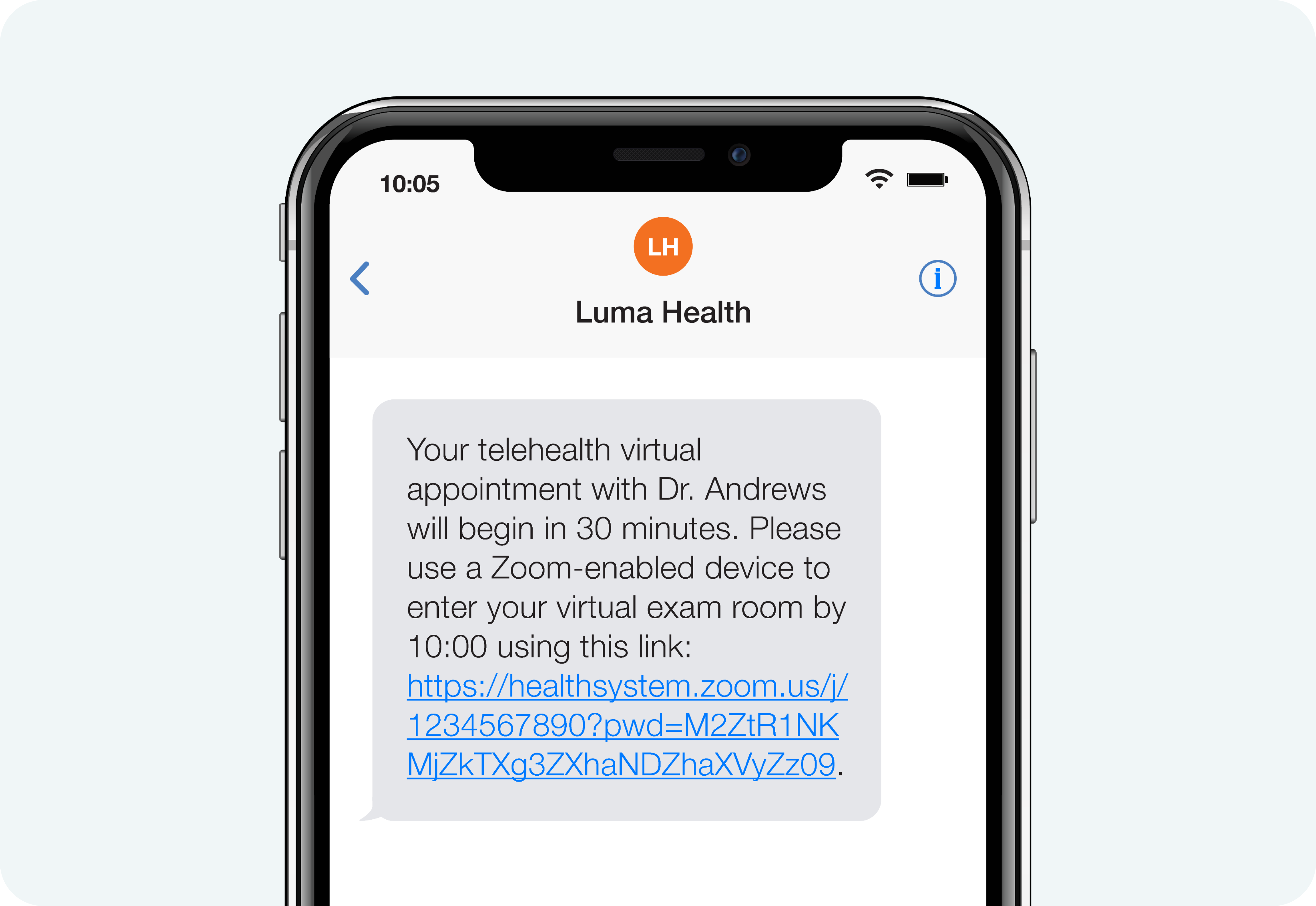 Providers can access Zoom rooms by merely logging into the Zoom application. When a patient enters a Zoom room, Luma Health Telehealth sends the provider an email with a link. This is helpful in situations where the patient enters the room prior to the provider. Finally, providers can also access the Zoom room directly through our platform dashboard, which provides a simple way to view schedules.

Zoom is one of the common vendors we see on our platform. However, because our platform is vendor agnostic, it can drive identical flows for any vendor or EMR.

Takeaway: A vendor-agnostic telehealth solution that integrates with your existing patient scheduling solution and EHR makes telehealth visits simple for providers to schedule while delivering a seamless experience for patients.
3. Implementation Challenges: In the wake of the pandemic, providers need to get up and running on a telehealth solution quickly.
Now, more than ever, it is important to eliminate telehealth implementation barriers. Healthcare teams that sign up for Luma Health Telehealth by April 30, 2020, can take advantage of a free 90-day trial, and get up and running in as few as three days. We're making this available for free to give more providers the opportunity to book virtual visits during this time when reducing nonessential patient visits and limiting exposure risks for patients, providers, and staff is critical.

Takeaway: Time is of the essence. Telehealth offers a solution to help you meet patient needs, while also keeping your staff members healthy.
I hope this post helps identify some problems to watch for and solutions that could improve telehealth for your organization and patients.
Until next time, stay healthy.