10 Reasons COVID-19 Demands a Text-First Patient Engagement Strategy
Like many other aspects of healthcare, patient-provider communication has been impacted by COVID-19. Prior to the COVID-19 crisis, text messaging was steadily gaining traction as an effective communication format for engaging patients. Since COVID-19 hit, texting capabilities have quickly shifted from being "nice-to-have" to "must-have" functionality. Here are 10 points that highlight the value of text-first communication in this new era of healthcare.
1. Healthcare providers' reliance on broadcast messaging increased 37x between March 2 and April 5, 2020. Source: Luma Health Data Report The spread of COVID-19 in the U.S. created an immediate need for rapid communication between healthcare clinics and large groups of patients. Texting fills that need. Text messages are a quick and easy way to mass message patients. When healthcare teams need to communicate health and safety information, provide updates about clinic hours, or introduce new safety protocols that are being implemented, they can utilize text messages to broadcast updates to their entire patient population at once.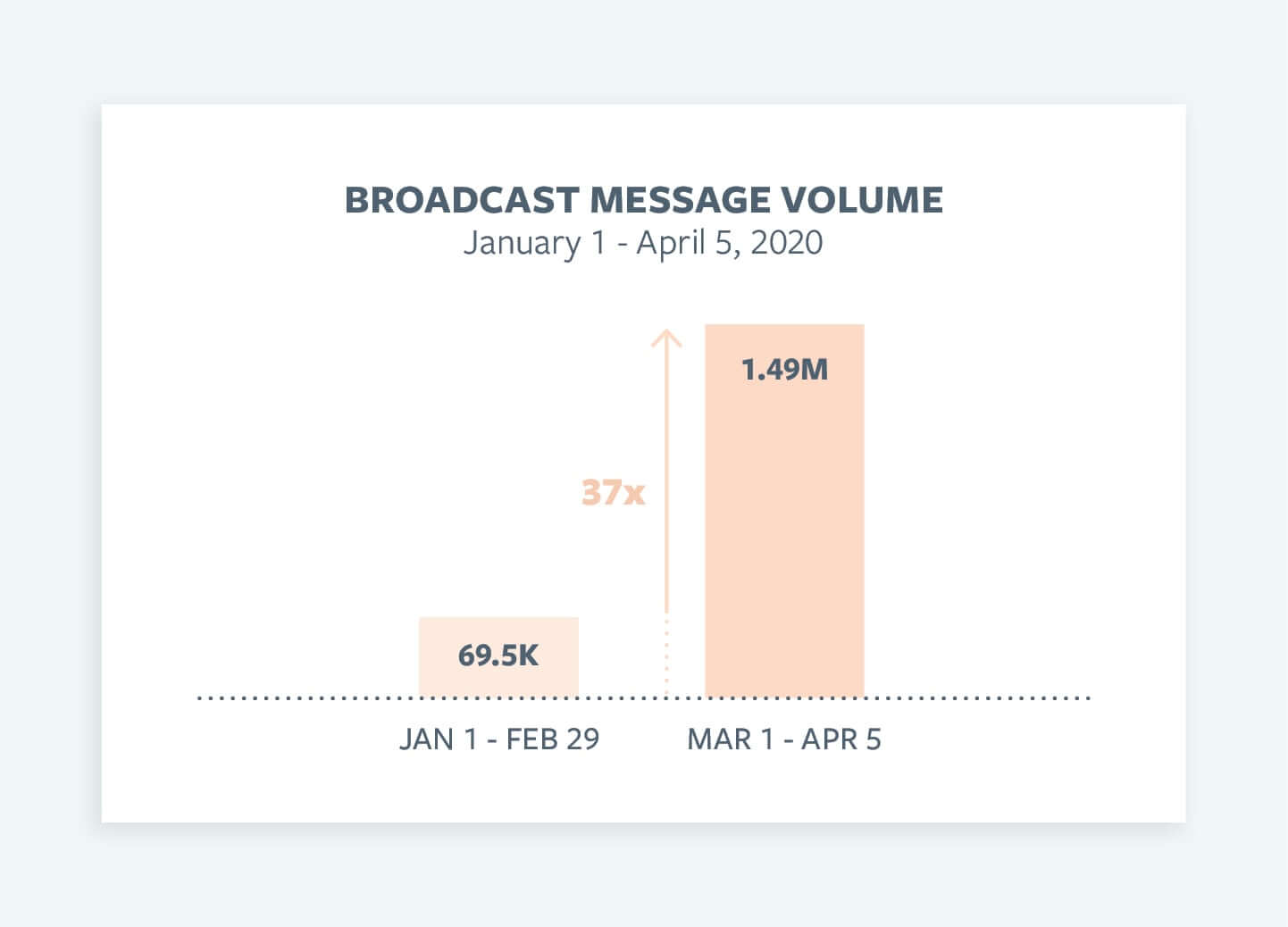 2. 1.56M messages were broadcast over Luma Health's platform alone in about three months at the beginning of 2020. Source: Luma Health Data Report With so many messages being sent to patients, automation is essential. Because text messages can be easily automated, healthcare teams can send more messages to more patients via text vs. manual outreach.
3. Following the COVID-19 outbreak, 30% of Americans report that they are more likely to spend time texting, chatting, and messaging. Source: McKinsey For many patients, texting is a preferred form of communication. And, it is only becoming more popular. Because COVID-19 is driving Americans to want to text more, it makes sense for healthcare teams to use text messages to connect with patients.
4. Appointment cancellation rates increased 108% following the COVID-19 outbreak due to patients' deferral of nonessential care. Source: Luma Health Data Report Appointment cancellations due to COVID-19 are not only impacting clinics financially, they are also creating a backlog of patients that are overdue for care. Now that a majority of stay-at-home restrictions have expired, many patients that cancelled appointments for non-urgent care are now available and more willing to visit their healthcare clinics. Text messages are an efficient and effective way to reach out to patients and reschedule cancelled appointments.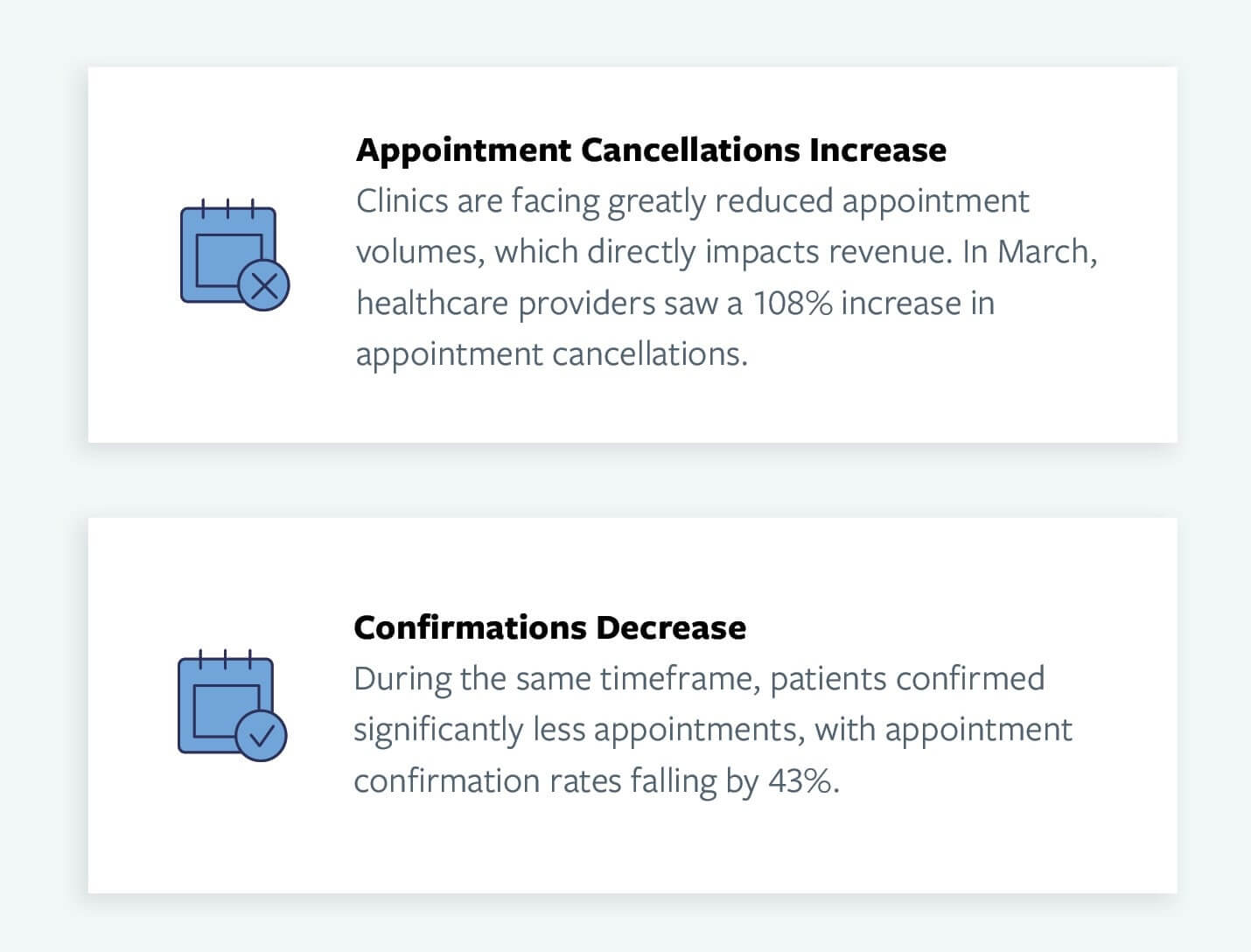 5. On average, hospitals will need to perform at 110% of their capacity continuously for six months to make up for lost revenue and decreased patient volume due to COVID-19 disruptions. Source: Crowe Making up for lost revenue is challenging and requires hospitals to operate as efficiently as possible. Hospitals and health systems can use text messages to automate outreach and more efficiently schedule elective procedures as they try to operate at maximum capacity. Automated text messages help reduce no shows and can be used to fill cancellations with waitlisted patients.
6. Around 46% of patients are now using telehealth to replace cancelled healthcare visits. Source: McKinsey Telehealth is being used more than ever as a result of COVID-19. Text messaging supports telehealth and makes it more accessible to patients. Text messages can be used to send patients links to their virtual appointments, or remind patients to join scheduled telehealth appointments.
7. In just two months, Luma's telehealth offering has helped providers successfully complete more than 25,000 virtual visits. Source: Luma Health Text messages help make Luma Health's telehealth solution easy to use and attractive to healthcare teams and patients. When a telehealth appointment is scheduled, Luma Health's solution enables providers to automatically send a text message that contains the link to join a virtual appointment. Patients don't need a special app, login, or portal — they can simply open their text message, click the link, and be connected to their provider. Additionally, customers that adopted our telehealth solution saw a significantly higher rate of appointment capacity utilization. Telehealth customers saw an appointment capacity utilization ranging from 69% to 92%, while non-telehealth customers saw one of 65% to 85% over the last couple of months.
8. Approximately 52 million Americans are 65 years old or older — meaning they are considered more at risk for becoming ill from COVID-19. Source: US Census Bureau Healthcare providers are taking extra steps to engage their high-risk populations, including older patients. Text messages are a simple way for clinics to send general health and safety information to older patients, or even deliver survey questionnaires that enable providers to monitor patients' health. Think older adults are less likely to engage with healthcare providers via text? You might be surprised. An analysis of patient interactions on Luma Health's platform revealed that a majority of patients ages 65-84 actively engage with their providers via text.
9. 6 in 10 Americans have at least one chronic health condition – another factor that increases patients' risk of becoming sick from COVID-19. Source: National Center for Chronic Disease Prevention and Health Promotion People with underlying medical conditions, including common chronic diseases such as diabetes and chronic lung disease, are known to be at a higher risk of becoming severely ill with COVID-19. Engaging these patients via text messaging is one way to support and educate them. Of course, COVID-19 isn't the only health threat facing patients with chronic conditions. To ensure that patients in need of chronic care can be seen in person for exams or procedures, healthcare teams can send patients screening forms via text. Using text messages to capture screening information is a simple way to confirm that patients with chronic conditions can visit their healthcare providers without risk to them or to staff.
10. 74% of primary care providers report that they have experienced a flood of phone calls from patients related to COVID-19. Source: The Larry A. Green Center Many clinics have seen a rise in phone calls as a result of COVID-19. Some patients want to reschedule appointments. Others want information about getting tested for COVID-19. And this is in addition to the regular phone calls clinics normally receive. To help alleviate strain on staff caused by higher call volumes, healthcare teams can adopt text messaging.
If you'd like to learn more about how COVID-19 is driving patient engagement trends — and what that means for healthcare teams as they use text messaging and other types of communication to connect with patients — check out this report from Luma Health: Covid-19 Ushers in Patient-First Care Model. And, if you want advice on how you can better leverage text messages as your organization evolves and adapts to COVID-19, get in touch.